Central Australia is challenging to visit on your own. The route from Adelaide to Alice Springs is remote. Subsequently you need a lot of equipment, the right vehicle and be experienced in off road driving. With that in mind I decided that a tour would be the best way to safely enjoy this part of the world as a solo traveller.
Due to its vastness the Australian outback is best explored with plenty of preparation or a guide. Additionally the best sites are a little hard to reach and the best experiences are had with locals. G Adventures allowed us to experience the best of both.
---
LET'S EXPLORE ADELAIDE TO ALICE
---
Wilpena Pound
Wilpena Pound was the first stop on our Adelaide to Alice Springs road trip. It was my first taste of rural Australia around 5 hours north of Adelaide. Whetting my appetite for the outback that lay ahead.
Our first camp site was at Wilpena Pound Resort. Everyone soon realised what camping in the outback entails! Namely sleeping in swags (small rollaway beds) on an empty patch of land. There was just a small shelter for cooking and respite from the sun. This was certainly no glamping holiday. Sleeping under the stars was the perfect way to get close to nature.
The Flinders Ranges
It doesn't take you long to find yourself in the middle of nowhere when exploring Australia. Far from being boring or empty, the Australian middle of nowhere is spectacular. It's untouched and worth exploring.
Next we woke early to begin our exploration of the nearby Flinders Ranges National Park. Like many places in Australia it is named after an explorer. In this case it is named after, Captain Matthew Flinders RN who was an English navigator and cartographer. Flinders identified Australia as a continent and lead the first circumnavigation of the country.
The drive through the park is on a graded gravel road. There are plenty of opportunities to stop and enjoy the view. A mix of bushland and the beautiful Flinders Ranges dot the landscape. Watering holes punctuate the bush. It's one of the most beautiful Australian road trips for sure.
Lake Eyre
The best way to appreciate Lake Eyre's size is by air. Lake Eyre occasionally has water in it, but is usually a salt plain. The flight can be bumpy so be prepared.
Kati Thanda Lake-Eyre is the lake's offical name. It's the lowest lying point in Australia. On the rare occasion that it is full, it is the biggest lake in Australia covering over 9,500 square kilometres! The basin is a mix of salt and sand. It's worth noting that you can also walk out onto Lake Eyre and explore by foot.
Coober Pedy
The next stop on this Adelaide to Alice Springs trip is Coober Pedy. Coober Pedy is an iconic Australia opal mining town. Many of its inhabitants live in dugouts which are a type of underground house. Dugouts keep a constant temperature making them comfortable during the hot summer days.
Coober Pedy is also known for its unique style of mining. They search for opals using the custom made trucks pictured below. Some people have come across huge caches of opals when building their dugouts. In some cases the opals have been worth enough to cover the cost of their house or more. In fact, Coober Pedy is a little bit like Australia meets the wild west!
Uluru
A trip to the red centre would be incomplete without visiting Uluru. Ayres Rock is the former name of Uluru. It is the largest monolithic rock of its kind in the world. Uluru is controversial to climb due to traditional Aboriginal beliefs. I enjoyed a walk around the base instead.
Uluru is spectacular at dawn and dusk. Both dawn and dusk turn Uluru a different colour, so make sure you visit for both. The glow given off Uluru is most magnificent and a must have photo of your experience.
Kata Tjuta
Kata Tjuta is a nearby neighbour to Uluru. The site was previously known as The Olgas. Surprisingly they are within eyes sight of Uluru, however they are far less publicised. Kata Tjuta is a collection of large domed rock formations. They are an incredible place to hike and view native animals too. Additionally they also have a rich history in the Aboriginal dreamtime. Like Uluru, Kata Tjuta is also a significant Aboriginal site.
Kings Canyon
If you were impressed with Uluru, wait until you see King's Canyon. The canyon is situated between Uluru and Alice Springs. Kings Canyon can be hiked or viewed by scenic helicopter flight.
If you have time, I would recommend doing both. You cannot appreciate the size of the canyon until you are overhead, yet when you are hiking you will be spoiled with stunning fauna and breathtaking cliffs. If you look closely you may even see fossilised remains of the inland sea that once covered this area.
You'll need a moderate level of fitness to hike Kings Canyon. The first section is named 'Heart Attack Hill'. Your heart will soon be pumping as you ascend steep vertical stepped climb. This is the most common and impressive route, however other less intense routes are available.
During winter the hiking trails are open during daylight hours. In the summer you will need to get in early as hot weather makes it dangerous to hike. To avoid the peak of the heat, start hiking before 9am. The track entrances are locked on days of high heat. When it is hot the track can only be walked in one direction for safety.
Bring plenty of water with you. Additionally hat, sunscreen and sturdy boots are a must. A camera is a must. In contrast the inside of canyon is lush and green. There are also a number of spectacular cliff views that you will want to capture.
READ | Our detailed guide of exploring Kings Canyon
Alice Springs
The journey from Adelaide to Alice Springs is unique and varied. Colour palettes quickly turn from green to red and the geological features become more remarkable. There is nowhere in the world quite like it.
Whilst swag style camping may not be for everyone, it was a wonderful way to get close to nature. Additionally most stops feature a range of accommodations from camp sites to hotels. Every style of travel is catered for.
Finally, Alice Springs meant the end of our Adelaide to Alice Springs adventure. I continued on to Darwin via The Ghan. Click here to continue the journey.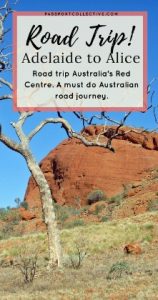 ---
RECOMMENDED POSTS