Queenstown is synonymous with adventure and beautiful scenery and is one of the ultimate places to visit in New Zealand. Located on New Zealand's South Island, alongside attractions such as Fox Glacier and Milford Sound, its position of the edge of Lake Wakatipu and at the foot the Southern Alps means that it is the perfect destination for lovers of the outdoors. It should most certainly be included in any New Zealand South Island itinerary.
When winter rolls around, it is a firm favourite with skiers from all over the world, who are looking for great ski conditions, long runs and good value skiing. Yearly, snow lovers flock in their droves to experience a southern hemisphere snow season and more reliable, affordable and longer ski season than is available in Australia.
When it comes to your NZ ski holiday, Coronet Peak night skiing is an essential Queenstown experience that you can't leave NZ without.
---
OUR GUIDE TO NIGHT SKIING AT CORONET PEAK NEW ZEALAND
---
The Queenstown ski fields are known for having a range of mountains and terrains to visit. Cardrona is known for its more extreme terrain parks and black runs, The Remarkables is a favourite with families and Coronet Peak has a great range of lower to mid range runs.
The great thing about a NZ ski holiday is that you can sample all of the resorts should you choose, or spend your time at your favourite.
The Queenstown ski fields are all a short drive from the centre of Queenstown so you can spend the maximum amount of time on the slopes. Skiing Coronet Peak is particularly attractive for those wanting to maximise their time as it is the closest resort to the township.
If you're travelling in winter, Skiing in Queenstown should most definitely be on your New Zealand South Island itinerary.
Ski Coronet Peak
Coronet Peak is Queenstown's closest ski resort. Located around 20 minutes from the town centre, it can be reached by car or bus. If you're not used to driving in the snow, we recommend the Snowline bus.
The road up is quite windy in parts, and shuttles depart between 8:30am – 11:30am and return from 1:30pm onwards. At NZD $20 pp return, they are a cost effective alternative to driving.
What are the lifts like at Coronet Peak?
Featuring four learner conveyor belts, one six seater express chair, two high speed quad chairs and a t-bart there are a variety of ways to navigate the mountain.
The resort covers 280 hectares of terrain, and features two terrain parks, and a tubing park. Most who ski Coronet Peak are beginning to mid range although there are a range of black runs closer to the peak.
How far from Queenstown is Coronet Peak?
Skiing Coronet Peak is an attractive option for those who are wanting to combine other activities with time on the slopes. In fact, this is one of the reasons people enjoy their NZ ski holiday so much.
Unlike other resorts in the world where you are locked solely into a ski holiday, Queenstown gives you that little bit more flexibility and with morning, afternoon and night sessions, it is no wonder skiing Coronet Peak is high on the list for skiers worldwide.
How to hire equipment and buy lift passes for Coronet Peak
The resort at Coronet Peak caters to all levels of skiers. If you don't have any equipment, no worries. First timer packagers cater to both skiers and snowboarders. If you're already set and just need a board or skis, no worries, you are also catered for with lift and and ski hire packages.
For the experts, lift tickets without hire start at NZD$99 for a day and also allow you access to The Remarkables ski field. Bargain!
If you're a beginner, or its been a while since you've skied, we recommend before the sun starts to set so you can best enjoy your skiing experience.
Lessons are available for varying ability levels, for example I took a group lesson on turning down steeper hills to build my confidence and was tackling black runs after the lesson.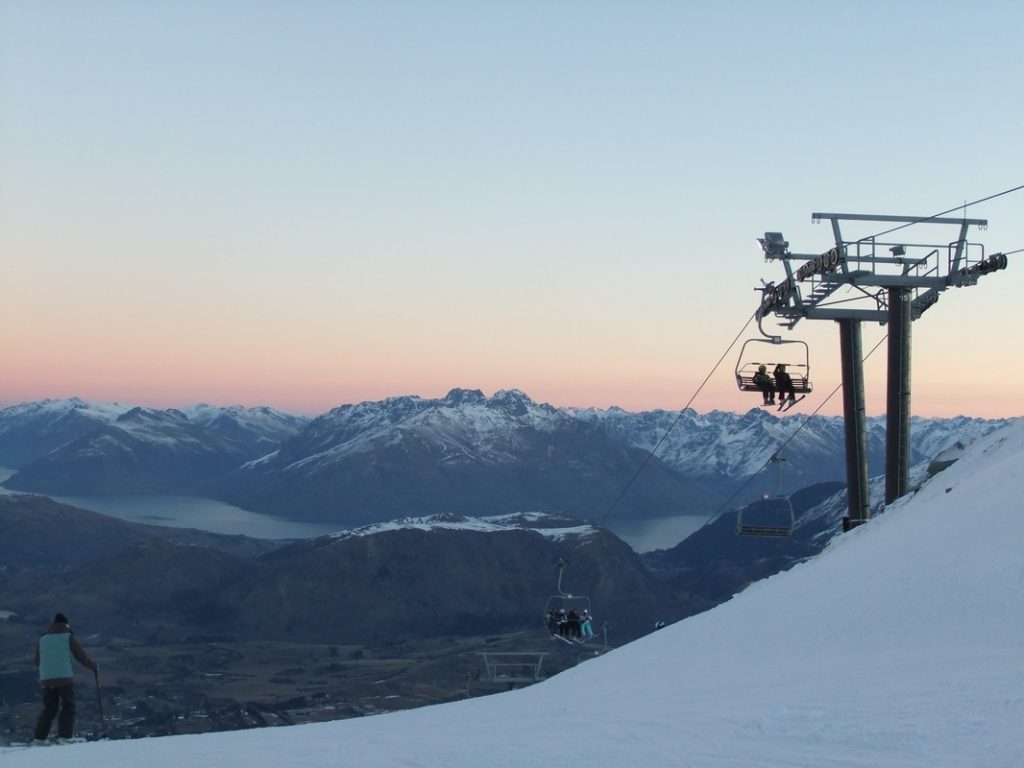 Coronet Peak night skiing
If you're going to ski Queenstown, you have to at least get one night ski in. Night skiing in Queenstown is a unique and visually spectacular experience. During the daytime the view is quite pretty, but as the sun starts to sink the mountain takes on a pretty pink hue that intensifies as dusk takes a hold.
When the sun's glow no longer lights the way, the lights go on changing the vibe completely. There are no worries about seeing your way with the runs being well lit and the off piste areas being well marked. You'll make it safely down the hill with no worries about crashing or getting lo
When does night skiing operate?
Night skiing is currently offered on Friday and Saturday nights with the session beginning from 4pm and running until 9pm. At NZD $56 Coronet Peak night skiing is very affordable and won't eat into your day's activity.
If you'd like a few more hours on the slops, a twilight pass for NZD $99 extends your session allowing you to get started at 12:30pm.
We opted for this option as we got to enjoy the best of the resort and the further afield runs, have a bit of a rest and refuel in the vibrant village before the snow plows groomed the runs in prep for night skiing.
By far twilight is the highlight of your night skiing adventure with skiing under lights a fun novelty.
What to expect from the night skiing runs at Coronet Peak
The lifts halt temporarily just before 4pm so the groomers can get the night runs in tip top condition. This grooming means that the runs are safe, well prepared and fresh.
Whilst the whole mountain isn't open for night skiing, the joy of this experience is the twilight views and skiing under lights rather than hitting the terrain parks.
A range of runs are available, keeping your interest levels piqued. Riders and skiiers can enjoy the M1, Shirtfront, Big Easy Trails and Magic Carpet. With the runs being rated for beginners and intermediate there is something for everyone.
The Coronet Peak night skiing experience
Day skiing at Coronet Peak was simply spectacular. Night skiing os something else again. Sometimes novelty can be a bit passe, but in this case the novelty of hitting the slopes at night wasn't lost on us.
The atmosphere is completely different to that of day skiing and if you're just in it to have a go then the 4pm pass is a low time and financial commitment for you to do that.
The village offers a great range of food, beverages and a fantastic outdoor seating area to rest before you hit the slopes. We enjoyed the music and village vibe as we rested our legs before heading up the 6 person lift and finding the more challenging terrain.
The twilight pass gave us plenty of time to enjoy the slopes, village and to have a rest without feeling pressed for time. The great atmosphere at this resort was well welcome and something we felt lacking at the other resorts.
Why you should ski Coronet Peak during twilight
As the sun begins to set, and the sky turns pink, you're greeted with the most stunning sunset over the snow capped peaks. Be prepared to stop and take photos mid run, it is almost as essential as the skiing itself!
The whole vibe of the mountain changes at sunset and your style of skiing does too. Instead of speeding down the hill, you're more inclined to want to cruise along and take in the moment. If there was ever an occasion to take in all of the goodness of a NZ skiing holiday this is it.
Night skiing in Queenstown forces you to be present in the moment, enjoy the snow, enjoy the views and generally enjoy that tingly buzz you get when you just know you're doing something special.
The best thing about night skiing is, its not about being a great skier! The runs are manageable for beginners and with the M1 running for 2.4kms there's plenty of time to cruise down the mountain before you have to hit the lift to run again. Night skiing passes are also limited so you won't find yourself in a traffic jam. An insider tip is that the beginners and families will tend to peter out earlier in the night so if you're still standing close to last tracks, you may even have parts of the run to yourself – winning.
Coronet Peak ski village
If you tire of skiing, or choose a part day pass, the village offers live music and lights up with a great off piste vibe. This was perfect for us, as my ski buddy had had a few crashes during the day and tired more quickly than I.
I could happily go for a few more runs whilst she enjoyed the village, without having to worry I was leaving her behind.
If you're in Queenstown and you're looking for a unique way to enjoy the views, try night skiing at Coronet Peak. You won't regret it! If you're a little sore after your skiing trip, there is always the Onsen Hot Pools back in town, where you can have a soak and relax those sore muscles!
Why night skiing at Coronet Peak is an essential NZ ski experience
The Queenstown ski fields are some of the best in the world. Your NZ ski holiday would be incomplete without at least trying night skiing in Queenstown. There is no place for it than Coronet Peak.
---
POSTS RECOMMENDED FOR YOU