I never really got the expression 'craic' before I arrived in Ireland. Pronounced 'crack', it made me think of workmen bending over in shorts that weren't quite high enough to cover their well you know….crack.
Luckily Gillian my lovely Shamrockers tourguide explained that it means 'fun'. For example 'what's the craic?" – meaning what 'fun' are you getting up to / has been going on?'.
Now craic is not limitless, it has a maximum level of 90. This means the night of your life. Now there is an exception. If something is absolutely phenomenal you can cheekily jump to 91, but I have been advised that the craic can only be 91 if you have the night of your life, meet Gerard Butler and he asks you to marry him (or insert another Irish heart throb)
---
IRELAND IN 7 DAYS
---
Dublin
I was somewhat dubious of Dublin when I arrived. It was beautiful, but swamped with drunken Polish people waiting for the Poland vs. Ireland match to play. Not really knowing my way around, I opted for a walk to explore Dublin's best spots instead of having a pint and luckily came across St.Stephen's Park. With spring really taking a hold, it was lovely to walk through the manicured gardens and see all of the bulbs in bloom. If your accommodation in Dublin is central, you'll easily be able to explore a lot of the city.
After a restless sleep in the top bunk at the backpackers, I was up and ready to start my tour. I quickly started chatting to a fellow Aussie called Bec and realised how nice it was to chat to a friendly Aussie after many months in the UK. We loaded onto the bus and were introduce to Gillian our tour guide and Mick our driver. If traffic permitted (i.e. a tractor not blocking the way rather than an excess of cars) we would be in Galway in a few hours.
Galway is a small but lively town. It has an active music scene and people are out listening to music until the early hours all nights of the week! We chose to drink our pints at Taffes Bar and even managed to get the band to play 'Galway Girl' which had became a favourite amongst our group. Galway is also known for its cathedral which has a mosaic of JFK next to Jesus himself. Apparently JKF is/was quite popular in Ireland – random.
Galway
Galway is a great location to base yourself if you want to explore County Mayo to the north. The change in scenery is quite dramatic and it is remote and empty in comparison to County Galway. One of the most memorable places we drove though was the Doolough Valley.
Here we were told the story of how a town of starving people were made to walk 15 miles through this valley to another town to get their food stamps, only to be turned away as the officers were having lunch. The return journey was treacherous and many dropped dead from exhaustion and starvation.
Although we were a world away from that now, the bite of the wind and the stark landscape certainly painted a picture in our minds.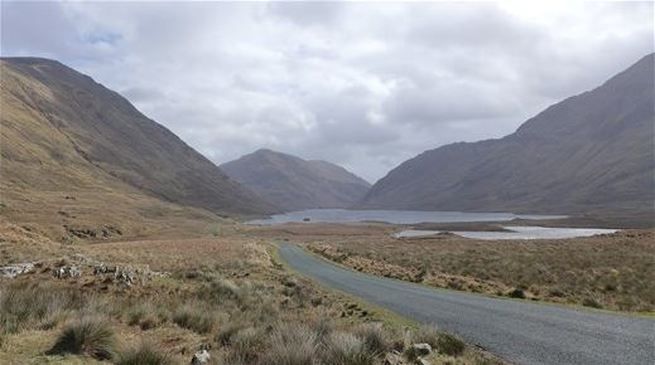 Croagh Patrick
Not far from the Doolough Valley, we came upon Croagh Patrick. This is the mountain where Saint Patrick was said to have driven the snakes out of Ireland. 'Apparently' he was so powerful there are also no fossilized remains of snakes either – you decide!
In the shadows of Croagh Patrick we came across a monument that had been crafted to remember those who left Ireland during the famine, searching for a better life. The way in which the artist crafted the people to look like skeletons was quite haunting and a reminder of those who did not survive the journey.
To offset our sombre moods, Gilliian told us a story of a famous Irish woman called Grainne Ni Mhaille (or Grace O'Malley in English). She was alive in the 1500's and the daughter of a pirate. When she asked her father to join his band of pirates, her father said no because her beautiful hair would distract them from their task. To this, she chopped off her hair and her father could see no reason for her not to join.
She became one of the fiercest women around, even going so far as to kill her own son when he admitted that he had allowed himself to be taken captive by the British rather than fight to the death!
We continued our drive through County Clare alongside The Burren National Park, which is famous not only for its karst stone formations, but for Bear Grylls sleeping the night in a dead sheep's fleece (word has it, he stayed in the 5 star hotel when it got dark).
Dingle Peninsula
As we continued our journey, we were promised beautiful scenery in Dingle and although we saw some beautiful sights, the most memorable sight for most of us was the man sitting in town drinking tea with his peat fire, hanging out with his dogs and his donkey. Dingle is also home to the Irish equivalent of Messina Gelati. It is called Murphy's and it features flavours such as sea salt and caramelised brown soda bread. I tried both and my fav was the sea salt.
Killarney
Last stop on the map was the town of Killarney. Some of us took a horse and cart ride through Killarney National Park which was a stone's throw away from the city, but so quiet it was like stepping into another world. After dinner we headed out to the pub. As it was Good Friday Eve, the pubs would be closing at 12 midnight as they are not allowed to open on Good Friday in the Republic of Ireland. Cheekily we ended up staying out until quarter to 1 when the Garde (police) came to the pub and politely asked us to leave.
Blarney Castle
Our last day saw us travel across Ireland from Killarney back to Dublin. Our last stop was Blarney Castle. I had never really thought too much about kissing the Blarney Stone before, but after I had climbed 4 storeys of narrow winding staircases (I may have called out that the craic was about 5 on those staircases) I wasn't just going to walk on by.
To put it in perspective for those who have not been to Blarney Castle. You have to lay on your back and crane right back and kiss the stone that is the furthest away from you. This means that you get a grand view of the grounds and the grass below. I am not usually afraid of heights and there are bars so you cannot fall, regardless I did feel a rush to the head and was happy when it was over and done with!
When to visit Ireland
In fact, there's no best time to visit Ireland. Whether you visit in summer or winter, spring or fall, Ireland is a nation that is beautiful year round.
---
RECOMMENDED FOR YOU