Melbourne is our home town. Laura's by birth and Pete's by adoption. We've both lived in different cities – and countries – yet we firmly call Melbourne home.
We'd argue that Melbourne is beautiful all year around, yet if we had to pick a season to tell our friends to visit – it would certainly be summer.
You see, there are so many easy Melbourne summer things to do. Whether you'd like to stay in the city, or head off on a day trip, these are all of the things we tell our friends, family (and now you) you must do too!
---
OUR GUIDE TO MELBOURNE SUMMER THINGS TO DO
---
This post may contain compensated links, which means at no cost to you, I earn a commission. Read our disclaimer and privacy policy.
Why visit Melbourne?
There is a big focus on free and cost effective events in Melbourne.
Melbourne comes alive over the summer months and buzzes with positive vibes.
Summer runs from December to February in Australia, with the warm weather continuing well into March.
As a multicultural city, we love welcoming new people from around the world and you will find that locals are friendly and willing to help you or have a chat.
Daylight savings means that there's plenty of daylight to enjoy and the outdoor lifestyle is perfect for the warm weather.
If that's not convincing enough, we've put together a compelling list of reasons that you need to visit Melbourne in the summer.
Melbourne's outdoor events
Melbourne is known as being an event city and in summer it comes to life with a multitude of community and sport events. The most notable event being the Australian open which runs for two weeks from mid January. It alone is a reason Melbourne is one of the best places to travel in January.
1. Watch a tennis match at the Australian Open
In late January, Melbourne comes alive as The Australian Open comes to town. The tennis is a huge drawcard for Melbourne.
The Tennis Centre is just a short stroll from Flinders Street station. Alternatively you can also hop on a tram. We suggest to walk. Birrarung Marr and the Yarra River are beautiful at this time of the year.
If you love great atmosphere, you'll want to visit the tennis in week 1. During this time there are plenty of matches on the outer courts. You might also catch one of the big name players on the practice courts.
During this time the grounds come alive with interactive displays and often concerts too.
During Week 2 things get serious. You'll need to book courtside tickets. If you've a favourite player or are tennis mad then week 2 is for you!
DETAILS | The Australian Open, Melbourne Park
2. Eat at the night market
The Queen Victoria night market runs on a Wednesday night from mid November to early March.
It features hawker style food, lots of drink options, stalls and a band. It is the perfect way to experience the iconic market in a different light.
The market is easily accessible by tram on routes 19, 57 or 58. Alternatively it is a 10 minute walk from the centre of the city.
DETAILS | Queen Victoria Night Market – Queen St, Melbourne
3. Watch a movie under the stars
Moonlight cinemas are also popular in Melbourne. They pop up in gardens and rooftops, so keep your eye out. They're just one of many fun things to do in Melbourne for couples.
The most popular outdoor cinema is the Moonlit Cinema at the Royal Botanic Gardens.
DETAILS | Moonlit Cinema – Royal Botanic Gardens, Birwood Ave, Melbourne
4. Celebrate the Moomba festival
In early March, Melburnians come out in force to celebrate the Moomba Festival.
It is Australia's largest free festival. It features a parade and fireworks.
You'll find the Moomba festival on the banks of the Yarra river. It's the perfect spot to watch the water skiing jump competition. There's also a festival area with a carnival and rides.
Grab something to eat from one of the many vendors or pack a picnic.
DETAILS | Moomba Festival – Alexandra Gardens and Sidney Myer Music Bowl
5. Catch the spectacular New Years Eve fireworks
Yes, we all know about Sydney's new years eve lights, but did you know Melbourne's are also spectacular?
Unlike Sydney, which focus on the bridge, Melbourne break their display up into zones. Key areas include The Docklands, The Yarra and the Botanic Gardens. Best of all they're staggered, so if you'd like to catch them a little earlier with the kids you can.
DETAILS | Locations around the Melbourne CBD such as the Yarra Promenade, Docklands and Botanic Gardens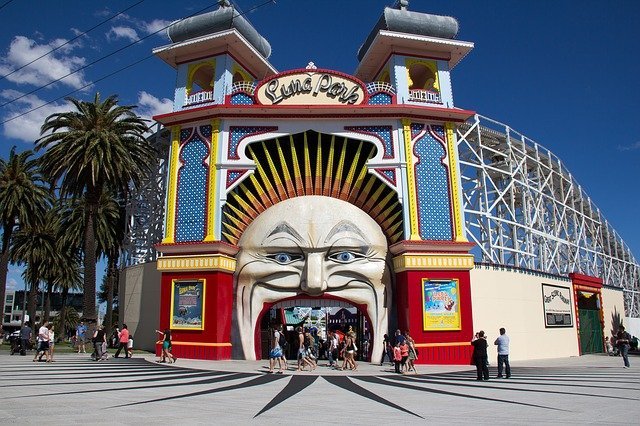 Places to enjoy Melbourne's warm weather
What is the weather like in Melbourne in summer?
December is the coolest of the summer months, with an average top temp of 19°C (66°F) compared to January and February that hit an average of 21°C (69°F).
It is quite common to hear people saying that Melbourne has 4 seasons in one day, so don't be surprised if it does dip a little below this, or soar up into the 40's (100s). We wouldn't consider it a good summer if it didn't!
Rainfall is low over summer, so pack your brolly away as chances are you'll only see a few fluffy clouds in the brilliant blue sky, if at all. With between 9-11 hours of sunlight a day, the long warm days are perfect for exploring the CBD area or heading a little further out of the city on one of the many day trips on offer.
If you've not been to Australia before, a word of note. The sun is quite strong here and the UV index is usually quite high. Even on cloudy days you'll need to slip, slop, slap, seek and slide. Slip on a shirt, slap on some sunscreen, slap on a hat, seek some shade and slide on some wraparound sunnies.
READ | Our guide to what to pack for Australia in summer
6. See the little penguins at St Kilda pier
Every evening at dusk, the little penguin colony that live on the rocks around StKilda pier come into roost.
It's not a big spectacular with lights and stadium seating like the Penguin Parade in Phillip Island. Instead, its a small huddle just doing their thing.
Not all that many people know about this colony, so you won't find the pier packed with crowds. How wonderful.
DETAILS | St Kilda Pier – Pier Rd, St Kilda
7. Walk along the St Kilda promenade
StKilda is an iconic Melbourne suburb. Just 10 minutes from the city, it was traditionally a location that the wealthy took a break from the city for a bit of sea air.
Today, it's *almost* part of the city and an essential destination for every Melbourne visitor.
St Kilda is known for its bustling cafe culture along Acland Street, its pier and the smiling Luna Park entrance. It is also well known for its beach and promenade. It's an iconic coastal area you can't skip.
During the summer months, you'll often find a fair set up by the promenade. With views of the city and the beaches further down the bay its no wonder StKilda is popular with backpackers and families alike.
DETAILS | St Kilda Promenade – Beach Side
8. Have a picnic at the royal botanic gardens
Melbourne's Royal Botanic gardens are just a short walk from the CBD and the perfect place for a summer's picnic.
The gardens span an impressive 38 hectares and feature a unique array of plantings. You can find trees, garden beds a lake and lawns.
If you're looking for some shades, set up amongst the oak tree grove.
If you're visiting the Melbourne botanic gardens with children make sure you visit the Ian Potter Foundation Children's Garden which features water play.
DETAILS | Royal Botanic Gardens Victoria – Birdwood Ave, Melbourne
9. Do a lap of the tan track
The Tan Track is a 3.8km track that circles the Royal Botanic Gardens. Named for its tan coloured gravel, its an easy walk and a great way to see the Yarra, St Kilda road and parts of the botanic gardens.
DETAILS | The Tan Track – Around the Botanic Gardens, Birdwood Ave, Melbourne
10. Stroll through the Carlton Gardens
The heritage listed Carlton gardens are just 8 minutes on the tram or an 18 minute walk from the centre of the city.
Featuring impressive fountains and the impressive Royal Exhibition Centre, it's a very photogenic spot.
The Melbourne Museum and iMax are also adjacent to the gardens. They are a great air conditioned spot to stop in on a hot day.
DETAILS | Carlton Gardens – 1-111 Carlton Street, Carlton
How to get around Melbourne
You may have heard of the dreaded Melbourne hook turn, but never fear. these babies only exist in the CBD. The roads in Melbourne are well signed, well maintained and easy to drive on. If you're heading out of the city and would like some freedom, then hiring a car is the best way to go.
Keep in mind, that in keeping with our colonial past, we drive on the left, so make sure you're confident before getting behind the wheel. The drink driving limit is 0.05 and police are a visible presence on the road checking both for speed and breathalysing drivers.
If hitting the road seems a bit overwhelming for you, Melbourne has an excellent train network that can get you around the city, suburbs and even further afield.
If you are remaining in the CBD, then you'll be best catching a tram. A little like the Oyster card in London, Melbourne has an electronic ticketing system, called Myki. It costs $6 to buy the card and then you can top it up with credit. Cards can be bought from train stations and registered suppliers like newsagents (you'll see a Myki sign on their window).
Trams can be a little tricky as you can alight the tram without a Myki card, but can't purchase one on the tram. Make sure you're prepared to avoid a fine.
Melbourne day trips by public transport
11. Ride the Puffing Billy train
Hop aboard the vintage locomotive Puffing Billy. Departing from leafy Belgrave, the train winds its way through the hills.
Take the whole trip to Gembrook where you can enjoy a walk around the lake. Make sure to check out the museum too.
Puffing Billy has open carriages which make viewing the sub tropical rainforest all the better. It also crosses several impressive trestle bridges.
Catch the train to Belgrave station. The Puffing Billy station is just across the road – easy!
READ |Puffing Billy Railway Our guide to visiting
DETAILS | Puffing Billy Railway – 1 Old Monbulk Road, Belgrave
12. Day trip Geelong and its pretty foreshore
Geelong is just an hour by Melbourne by VLine train from Southern Cross station. You can even use your Myki card to travel.
Geelong is a cosmopolitan city in its own right. There are a host of great restaurants, an art gallery, gardens and incredible foreshore.
Take a walk along the historic Cunningham Pier or enjoy a splash at the sea bath and children's pool at the Eastern Beach Reserve.
READ | Our guide to Geelong at night
13. Visit the African Savannah at the Werribee Open Range Zoo
It's just a train and bus ride to the African Savannah when you visit Werribee Zoo. Take the train to Werribee station and then bus 439 to get there.
Werribee Zoo is open range style, with a combination of walk through and drive through attractions. The guided safari bus takes you through to the savannah area where the animals roam.
A favourite attraction is the lion enclosure where you can sit in a vintage jeep who's bonnet extends into the lion's enclosure. The lions are known to lounge on the bonnet earlier in the day, so its a great time to visit if you want to get up close and personal.
READ | Our guide to visiting Werribee Zoo
DETAILS | Werribee Open Range Zoo – K Road, Werribee
14. Step back in time at Werribee Mansion
Located next to the Zoo, catch the same train and bus combo.
Werribee Zoo and Werribee Mansion originally formed one large property which was owned by the Chirnside family. The Werribee Park property has now been divided into the zoo, the mansion, the State Rose Garden and equestrian centre.
Werribee Mansion is the original homestead and gardens. The mansion also includes a hotel should you wish to stay.
The grounds, which feature manicured gardens, impressive trees, a lake, glass houses and a grotto are free to visit. If you'd like to explore the mansion, entry is around $10 for an adult.
READ |Our guide on what to do in Werribee
Melbourne day trips by car
15. Take the ferry from Queenscliff to Sorrento
Enjoy the best of the bay by crossing from Queenscliff to Sorrento on the ferry. It's just a 40 minute trip from point to point.
The ferry is a passenger and car ferry so once you've enjoyed the coastal views, get back in the car and meander back to Melbourne via the Mornington Peninsula.
READ |Our guide to taking the Queenscliff to Sorrento ferry
DETAILS | SeaRoad Ferries – Queenscliff Terminal, 1 Wharf Street E, Queenscliff
16. Chill out at the Peninsula Hot Springs
Hot Springs? Yes, please! The Hot Springs are located on the Mornington Peninsula and can easily be combined with the Queenscliff to Sorrento Ferry.
The Peninsula Hot Springs is a huge complex featuring a large number of thermal pools. There are hot, warm and cool pools, a grotto and even an ice experience.
If you are feeling fancy, upgrade to a Spa Dreaming Package and enjoy treats such as an aromatherapy bath and adults only zone – so relaxing.
DETAILS | Peninsula Hot Springs – 140 Spring Lane, Fingal
17. Soar through the trees at the Otway Fly
If you are looking for a different perspective on things, why not take to the sky?
Don your harness and set off on an exciting zip line adventure through the Otways rainforest. Your guides will lead you on a tree top experience like no other.
In addition to the zip line, you can also undertake the Sky Walk. The walk is a raised platform that immerses you in the rainforest canopy. It also includes a cantilever and towering viewing platform – this is one for those who love beautiful views and aren't afraid of heights!
READ | Our post on why you should visit the Otway Fly
DETAILS | Otway Fly – 360 Phillips Track Beech Forest, Weeaproinah
18. Enjoy Daylesford & the Hepburn Bathhouse
The powers of mineral water are harnessed for a relaxing bathing experience at the Hepburn Bathhouse.
The Bathhouse is an enclosed facility that features bathing, sauna, wellness and spa therapies. If exploring has your muscles aching, make sure to spend some time in the magnesium pool. It's perfect for relaxation and rejuvination.
STAY | Stay the night in Daylesford at the Farmers Arms Art Hotel
19. Ride high on the Arthur's Seat Eagle chairlift
For a spectacular view of Port Phillip Bay that spans from the Mornington Peninsula all the way to the city, you need to ride Arthur's Seat Charlift.
It is located in Arthur's Seat, around 1.5 hours south of the city. It's mostly freeway driving, so it is an easy day trip from the city. It's also close to Rosebud beach, so don't rush home!
DETAILS | Arthur's Seat Eagle, 1085 Arthurs Seat Road, Arthurs Seat
20. Marvel at Warburton's redwood forest
You don't have to travel to America to be wowed by giant redwoods – you can find them just an hour from Melbourne!
Warburton is in the Yarra Valley and an easy drive from the city. The redwoods are a popular attraction, so if you'd like to enjoy them in peace, visit midweek.
Whilst you're there take a meander along cement creek and look out for native wildlife.
DETAILS | Warburton Redwood Forest – Cement Creek Road, Warburton
21. Take a splash in the Yarra River at Warrandyte
Located an hour north east of Melbourne, Warrandyte is the perfect place to cool off in the Yarra.
Unlike the city where the Yarra is wide (and a lil murky), the river is more creek like in Warrandyte. The water is clear and the river rocks are smooth – making it the perfect spot to cool off on a hot summer's eve.
DETAILS | Pound Bend Reserve, Warrandyte
Day tours from Melbourne
22. Enjoy a winery tour of the Yarra Valley
Melbourne's Yarra Valley is known for its incredible food and wine. You could drive, but a wine tour is best enjoyed with someone else behind the wheel!
Let the experts take you to the best wineries. You can go on a pre-organised trip, or many providers allow you to customise your own.
The region is known for its ability to produce a wide variety of grapes, so you'll find a wine that caters to almost every taste. Our favourite is a glass of bubbly at Domaine Chandon.
DISCOVER |The best Yarra Valley wine tour
23. Be wowed by the Great Ocean Road
The Great Ocean Road is famous world wide. There is good reason too – it is spectacular. It's also quite a long drive, so if you're not familiar with the roads in Australia or just want to sit back and relax, hop on a day tour.
It's around 4 hours one way to the Apostles, but there is a lot to see along the way.
Spoil yourself with a helicopter ride over the 12 Apostles if you can – the coastline is incredible by air.
READ | Our Great Ocean Road itinerary and drive the route yourself
24. Experience the Phillip Island Penguin Parade
If you want to see Little Penguins en masse then Phillip Island's Penguin Parade is for you. At sunset every evening, you can witness the penguins return from the ocean to rest for the night.
A series of boardwalks also means that you can follow the penguins on their trek back to their burrows. The whole site is set up to allow guests a great view, whilst imposing on the penguins as little as possible.
DETAILS | 1019 Ventnor Road, Ventnor
Where to enjoy Melbourne's beautiful beaches
Located on Port Phillip Bay, the Melbourne CBD is just a short tram ride away from the beach. St Kilda Beach, a 15 minute tram ride from the city, is the closest beach to the CBD. You'll find many tourists on this beach, however most Aussies head a little further out of the city.
South of the city lies the Mornington Peninsula. Everyone has their own special beach that they love the best but most Melburnians would head to Brighton beach or further south. If you're looking for that iconic picture with the bathing boxes, then Brighton Beach is the one for you.
On the opposite side of the bay is the Bellerine Peninsula. With beaches from Williamstown onwards, the water is a little shallower and the waves a little flatter over this side of the bay.
Regardless of where you choose to swim, be aware that waters in Australia can be dangerous. On occasion there are shark sightings, but more often than not it is rips and unsafe surf conditions you need to be most cautious of.
Always swim at a patrolled beach. ensuring that you swim between the flags. We are lucky to have a large number of patrolled beaches and lifesavers in Victoria, so make the most of it and swim safely.
If you enjoy water sports, why not hire a SUP (stand up paddle board) or take a paddle boarding class? Body boards or 'boogie boards' as Aussies call them, can be cheaply purchased and are great fun to play in the waves.
If you prefer to stay on the beach, then you will enjoy the wide open expanses of sand and the ability to enjoy your own space. Unlike Europe, chairs and umbrellas aren't for hire at the beachside, so come prepared. Most Aussies own a pop up beach tent, which is a great option for sheltering yourself from the sun.
24. Swim with the locals at Williamstown beach
Located in Melbourne's inner west, Williamstown beach is a favourite with the locals.
Catch the train to Williamstown station. The beach is a short walk from the station.
Featuring golden sand and calm, patrolled waters, Williamstown beach is a safe and fun place to swim. The foreshore features a number of cafes and there are also barbeques by the beach should you wish to cook your own lunch.
DETAILS | Williamstown Beach – The Esplanade, Williamstown
25. Experience the red cliffs at Black Rock
Red Bluff at Half Moon Bay in Black Rock is one of Melbourne's most impressive beaches. Just 30 minutes south of the CBD, its very accessible too.
This beach features distinctive red rocks that tower above the shoreline. Visit at dusk for a truly spectacular site.
DETAILS | Half Moon Bay Beach, Black Rock
26. SEE THE ICONIC BATHING BOXES AT BRIGHTON BEACH 26. See the iconic bathing boxes at Brighton Beach
Vibrant coloured beach huts lining a golden sandy shore – it's an image synonymous with Melbourne in summer.
Just 30 minutes south of the city, Brighton Beach is famous for its colourful huts and also its calm swimming conditions too.
Whilst the huts are privately owned, you can walk amongst them and sit on their decks for a photo (or two)
DETAILS | Brighton Beach, Esplanade, Brighton
27. Enjoy the calm waters at Rosebud beach
Located on the Mornington Peninsular, around 1.5 hours from the city, Rosebud is a favourite holiday spot.
The beach here is shallow for a long distance from the shore. It's also calm and manned, making it a great beach for families.
28. Go for a surf at Bells Beach
If you love to surf or just want to visit an iconic surf destination, then head to Torquay.
Torquay is just over an hour west of Melbourne and the home of Bells Beach. Torquay is just a short drive from Geelong and the gateway to the Great Ocean Road.
Bells Beach is located between the town os Torquay and Jan Juc. The coastline is rugged and beautiful – even if you don't make it into the water.
Melbourne's nightlife
In addition to all of the night market action, Melbourne is a great spot to head out after dark. Featuring funky laneways, pubs, bars and restaurants, there is never a shortage of things to do.
During the tennis, why not head to the inner city suburb of Richmond, which is adjacent to Rod Laver Arena. The are comes alive during this period and is chock a bloc with, funky laneways, bars and pubs to enjoy a drink whilst watching the action.
Located by the beach, St Kilda is also a firm favourite. With a funky hipster vibe and beachside views, it wouldn't be a summer without having at least one drink on a St Kilda rooftop bar.
PLAN | Stay in a hotel close to the action. Read our post on why we love the Holiday Inn on Flinders Lane.
29. Stroll along the Crown Promenade & Southbank
Nestled alongside the Yarra river, the Crown Promenade is an iconic evening walk. Time your walk right and you'll be able to witness the impressive fire display light the night sky.
Keep walking down to Southbank and stop for a bite to eat or at one of the many riverside bars.
30. Enjoy Shakespeare in the Botanic Gardens
If you're a fan of the theatre, then why not head to the Botanic Gardens for a bit of Shakespeare? Pack a rug, drinks and a picnic and be swept away by the Melbourne theatre company as they play on an outdoor stage. Its an unmissable experience.
31. Have a drink at an outdoor bar
You're spoiled for choice when it comes to outdoor bars in Melbourne. It's hard to miss Abory Afloat on the Yarra – it's right next to Flinders Street Station.
We love the expansive space of the Corner Hotel. No matter, which bar you pick, chances are Melbourne will meet you with a balmy night to enjoy a sip under the stars.
How to prepare for your trip to Melbourne
Summer in Melbourne is extremely busy, so if you're planning on visiting a popular attraction book ahead. The same goes for accommodation.
When it comes to what to wear in Melbourne, you'll need a variety of clothing. The temperatures can vary from cool to extremely hot, so make sure you pack some layers or else you may find that you are cold of an evening.
PLAN | Check out current prices and availability for hotels in Melbourne
---
MORE MELBOURNE THINGS TO DO