Melbourne is a wonderful and diverse city. There is a broad range of things to do and see, however when visiting somewhere new, it is important to get out of the city. Leaving the city allows you to gain a deeper understanding of the people, culture and place you're visiting.
Melbourne is where we live and is Laura's home town. These day trips are one
We've gathered the top 5 best day trips from Melbourne to help you do just that. Let's hit the road!
---
OUR TOP MELBOURNE DAY TRIPS
---
THE BEST MELBOURNE DAY TRIPS
The best Melbourne day trips allow you to see more of Australia. They will get you up close to flora and fauna. Great food is involved and a little bit of adventure of course.
They give you a taste of a real Aussie experience whilst being easy to navigate to. They may also be turned into an easy weekend trip from Melbourne. Whether you enjoy these day trips as stand alone adventures, or add them on to a longer itinerary, one thing is for sure.
DAY TRIP 1: HANGING ROCK
An inexpensive Melbourne day trip is Hanging Rock. Best of all, its within an our of the CBD! An easy drive along the Tullamarine and Calder Highways will bring you to your turn off at Macedon. The scenery will immediately become leafy. Nestled amongst copses of gum trees, Hanging Rock is a 6 million year old rock formation. It is one of the largest volcanic plugs in the world.
You are able to climb the rock, which will take around 20 minutes if you've got a decent level of fitness. Once you're at the top you can scamper between up and over the rocky peak to gain the best view of the green farmland and distant hills.
It is one of the best day trips from Melbourne as it is easy to get to and is also an adventure. It is particularly good for those wanting a part day Melbourne road trip. Hanging Rock can easily be enjoyed within a 3-4 hour window return. It is also an inexpensive day trip from Melbourne at only $10 per car entry fee.
READ | Everything you need to know about visiting Hanging Rock
DAY TRIP 2: THE OTWAY FLY
Around 2.5 hours west of Melbourne lies the beautiful sub tropical Otway National Park. Just inland from the Great Ocean Road, it is a sometimes overlooked destination but we think one of the best places to visit in Victoria. It can easily be visited in a day. Additionally it also makes an easy weekend trip from Melbourne. There are a large range of gorgeous accommodation options nearby.
This is one of the best Melbourne day trips because Otway region has a unique micro-climate. This means that it has a higher average rainfall than its surrounds. All of this rainfall means a gorgeous lush forest for you to enjoy year round. The trees are breathtakingly tall and perfect for exploring at height.
Once in the Otways, the Otway Fly is a must see attraction. It features an exciting zip lining course that sends you soaring through the trees. Additionally there is a forest walk. The forest walk is suitable for all ages and abilities. The forest walk takes you on a catwalk through the canopy as well as the floor of the rainforest. It is truly breathtaking.
READ | Everything you need to know about visiting the Otway Fly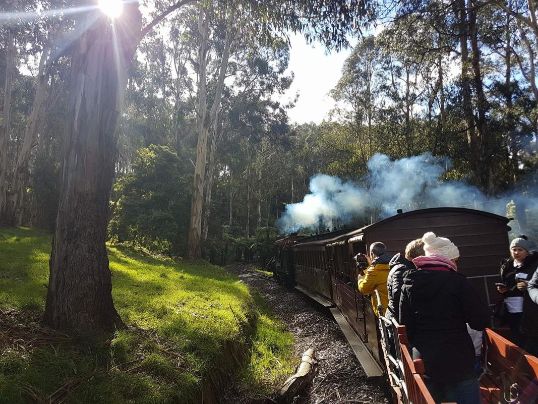 DAY TRIP 3: PUFFING BILLY STEAM RAILWAY
One of the absolute best Melbourne day trips is Puffing Billy. This Melbourne experiences can be visited by road or public transport,. It's a great option for those unable to drive. Puffing Billy is located in the scenic Mt Dandenong Ranges. They are a part of the Great Dividing Range, of which the Blue Mountains also belong. The Puffing Billy Railway is an iconic adventure for the whole family.
You'd struggle to find a Melbournian that hasn't ridden this iconic steam railway. If you do self drive, you'll enjoy lush tree fern lined roads as you ascend the mountain to Belgrave. If you take the train (the regular Metro trains) the station is just across the road. It's very convenient.
The rail journey takes around 3 hours return. Additionally you can also ride one way if you wish. It is one of the best Melbourne road trips and with plenty of excellent accommodation options nearby, is also an easy weekend trip from Melbourne should you wish to extend your stay.
READ | Everything you need to know about visiting Puffing Billy Railway
EAT | Maria Cafe – The best coffee in the Dandenongs
DAY TRIP 4: THE YARRA VALLEY
Cherry Blossoms in Melbourne: How to see the absolute best!Located around 1 hour east of Melbourne the Yarra Valley is one of the best places to visit in Victoria for wine. It's an inexpensive Melbourne day trip as many wineries offer a cellar door where you can try before you buy. There's no obligation to purchase. If you do however love the wine, it may cost a little as you add to your collection!
You can either self drive from Melbourne, or if you are planning on having a few drinks many companies offer day trips that include lunch and a visit to the delicious Chocolaterie. It's not all that far from the Dandenongs, so it would make an easy weekend trip from Melbourne in conjunction with Puffing Billy. You could even venture on a little further to Marysville and make a weekend of it.
With big names such as Domaine Chandon (yes a relative of Moet Chandon), delicious artisanal foods and a wide range of wine produced in the region, there is no other region in the state within a day's drive to experience such gastronomical delights.
In spring the region comes alive with vibrant spring flowers and is even home to Australia's largest cherry blossom festival.
READ | Plan the best wine tour of the Yarra Valley
DAY TRIP 5: PHILLIP ISLAND
Escape the city on a full day self drive trip that you'll certainly want to enjoy until dusk. Phillip Island is the perfect place to create your own DIY Melbourne tour. It features sights such as the Koala Conservation Centre, the Nobbies and of course the famous Penguin Parade. It is the perfect place to have an Aussie animal experience. You can get up close with native wildlife such as kangaroos and koalas at the Koala Conservation centre. Finally, then as dusk sets in, head over to the Penguin Parade. Here you can watch the little penguins retreat from the sea to rest in their burrows for the night.
With plenty of on island accommodation options ranging from motels to holiday homes, it is the perfect place to overnight if you don't fancy a drive back to the city in the dark. It is an easy run on well lit freeways for the majority of the journey, so it is one that can comfortably be undertaken in a day should you desire
READ | What you need to know about driving in Australia as a tourist
BEST MELBOURNE DAY TRIPS
There really is no reason to keep yourself cooped up in the city for the duration of your stay. There are so many amazing day trips from Melbourne. They all can be visited in a day or can be extended if you wish. They are all all are an easy drive from Melbourne. Some even have public transport or tour options. You'll have a real Aussie experience by journeying just a few hours from the city.
With a large range of experiences available, there is something that will appeal to everyone. You will be able to experience all of the stunning flora, fauna and food that Melbourne has to offer.
DISCLOSURE: Some of the links in this post are affiliate links, which means, at no cost to you, I earn a commission.
---
MORE THINGS TO DO IN MELBOURNE