When it comes to weekending, travelling carry on only is the only way. Instead of spending money on unnecessary checked in luggage, loosing time at bag drop and then at the baggage carousel, travelling carry on only will have you through the airport and on your way, leaving you plenty of time to enjoy your weekend exploration.
When it comes to a weekend city break, you want to be able to have options to cater for a variety of weather conditions, be comfortable whilst exploring new places and then get a little dressed up for a night on the town. Most importantly, you need to be able to fit all of these options in your case and stay within any airline imposed weight and size restrictions.
With a bit of careful planning, and capsule wardrobe thinking, we'll have you looking good and well packed for your weekend city break.
---
OUR GUIDE TO PACKING SMART FOR A WEEKEND AWAY
---
This post may contain compensated links, which means at no cost to you, I earn a commission. Read our disclaimer and privacy policy.
Use a carry on case
When it comes to weekend travel, a great carry on suit case is your best friend. It needs to be the right size, super light, super strong and easy to manoeuvre. Four wheels are certainly better than two, and an adjustable telescopic handle is essential. If travelling internationally, a TSA approved lock is also an essential feature to ensure your case is safely stowed whilst on the flight, and it is certainly a bonus if that lock is a combination lock and already a part of the case (lost locks and keys anyone?!)
The outside is important, but where you can tell it's a really great case is in itsIts interior. Smart cell like compartments will help you reduce your clothes wrinkling and make it easy for you to remove your liquids at security without flashing your unmentionables to the world! A strong inner lining with sturdy zips are also essential for the longevity of your bag.
Downsize your toiletries
Whilst it can be tempting to pack 'ultra light' an unexpected shower may leave you with wet, frizzy hair and it can feel a little sad all dressed up without the makeup to add those final touches. The trick to fitting it all in – travel size.
If you don't travel often you may like to buy travel sized bottles, however if you travel often, the best way to go is to buy small silicone travel sized squeeze bottles that you can decanter your favourite products into. This way you can still use your favs and benefit from the economy of buying 'normal' sized products. This strategy works well for shampoo, condition, moisturiser and body wash.
A travel hairdryer is a great addition to your travel bag, just remember to pack an adapter otherwise it can prove to be more of a useless frustration when attempting to use it overseas!
Select a neutral makeup pallet that features shadows that can bring you from day into night. Eyeliner is a great addition as well as adding a darker shade to create a smoky eye. A lipgloss like paw paw ointment is a great addition as it can be used to treat small skin irritations like burns and insect bites as well as keeping your lips moisturised.
With liquids needing to be decanted into plastic bags for many flights, you'll be grateful that you utilised three smaller travel cases and packed all of your liquids together, this will allow for a much speedier trip through security.
DISCOVER | The best travel toiletries kit for you
Utilise a capsule wardrobe
Daytime clothes
I've seen many a woman tottering around in heels, but for us mere mortals a pair of flats will be your best friend. In summer, pair the with shorts and a funky scarf. Of an evening, or if it is cooling off a little, ripped jeans are an excellent addition and can be worn as a separate outfit with the same t-shirt worn with the jeans if needed. Simply change out your earrings, add or remove your hat and swap out your scarf for a new look. The best travel clothes for women can be worn multiple ways so go for complimentary colours and bright accessories.
If it is a little chilly, add some tights under the shorts or jeans for an extra layer of warmth. A backpack will carry your scarf or jacket (borrowed from your going out clothes) if needed and allow you to collect souvenirs on the way.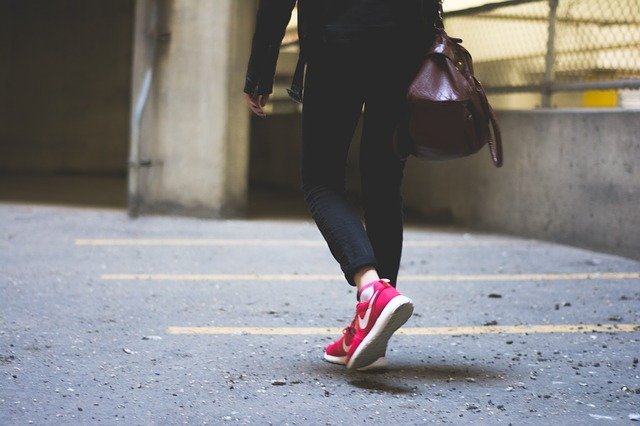 Going out clothes
Whilst we're all about being practical when exploring new places, (who wants blisters and to miss out on seeing things because of uncomfy clothes?!) however a big part of a city break is enjoying the nightlife.
A flowy dress paired with stylish flats, pretty earrings and a clutch bag will have you looking stylish in no time. A light cardigan will add to your look and provide a little warmth on a cooler evening. Swap the long sleeves for short sleeves if the weather is warmer.
Your flats can also be paired with your ripped jeans, a light jacket and a floral top for a more casual dressy look. Pick like colours for your dressy and casual clothes, so you can easily interchange them. The t-shirt, jeans, casual shoes and light jacket would make a great outfit for the plane, and also save you some space and weight. If it's winter, swap the light jacket out for the cape and jumper….sorted!
Remember the essentials
A comfy neutral bra and several pairs of comfy neutral underwear are essential. Add in a nicer set to wear under your dress for a more special look. If your hotel has a pool, or you're travelling to a warm destination, don't forget to pack swimwear, shoes and sunscreen. A caftan can be a great option for getting between the pool and your room, and can also be worn as a top if desired.
Winter essentials
Travel isn't always just for the warmer months, and on occasion (plenty in my case) it has been rather cold during the supposed summer months! Add a cloak is a less bulky, but warm option for winter and paired with a jumper and gloves you'll be feeling toasty warm.
Remember to wear your bulkiest clothes on the plane. Layers can easily be taken off when on the flight and gloves stored in pockets. Stockings can be worn with your dress, under jeans, or with shorts for a different look.
The round up
We've not included any electronic devices in our list, but if you are planning on taking a phone, ipad or camera, ensure that you pack all of the relevant cables. We find a small packing cell ideal for this. Research the power socket configuration at your destination and be prepared by brining along at least one adapter. Hotels can assist with this, but don't rely on it.
Whilst it might be tempting to bring along hair straighteners and other devices, chances are the amount you will use them won't justify the space they take. If travelling with friends, why not pool hair dryers and straighteners between you, that way you won't have two of everything and can still achieve the look you're after.
We've seen many an argument over carry on bags between passengers and airline over the years, and we've also arrived at our destination to realise we'd be under dressed to visit certain locations we'd only found out about on arrival.
By following our ultimate city weekend packing guide, you'll be prepared for all situations, be comfy, stylish and with all of your clothes cleverly prepared and packed, you'll be zipping out of the airport and off to your weekend in no time!
Passport Collective is a participant in the Amazon Services LLC Associates Program, an affiliate advertising program designed to provide a means for us to earn fees by linking to Amazon.com and affiliated sites. As an Amazon Associate I earn from qualifying purchases.
---
RECOMMENDED