At the edge of the Yarra Valley and the gateway to Victoria's Alpine region lies Marysville Victoria. It one of the prettiest townships that you can visit from Melbourne. Getting there involves one of the most scenic drives from Melbourne through the iconic Black Spur.
At around one and a half hours north west of the city, it's perfect for a relaxing weekend escape from Melbourne. You'll want to stay more than just a day so plan a 2 days or more to really enjoy the best of the area.
The Vibe Hotel Marysville is a great Marysville accommodation option for families. The rooms are well appointed, its close to everything and if you visit in summer there is even a pool!
---
WHY WE LOVE STAYING AT VIBE HOTEL MARYSVILLE
---
How to get to Marysville Victoria
Twisting turns, towering trees and lush tree fern lined hills make the Black Spur one of the most scenic drives in Melbourne. Around 30km in length, this iconic road runs from Healesville to Marysville.
Black trunks, the remnants from bush fires gone by, dot the hills and cast a stark contrast to the lush regenerated forest that surrounds them. Victoria's temperate rainforest is impressive, Ancient gum trees line the road. You'll want to take it slow to enjoy the view. Also the road is quite windy and in parts narrow too.
Keep your eye out for fallen trees and small waterfalls on the side of the road. Each twist and turn holds a new delight and the journey is punctuated by picnic and rest stops. There are plenty of opportunities to get out and stretch your legs.
You'll find Maroondah Reservoir Park on the outskirts of Healesville. It certainly makes a great first stop. Take a walk to view the dam. In Spring, the rhododendrons and azaleas are in full bloom and during winter enjoy the force of water tumbling over the spillway.
READ | Visiting in Spring? Read our guide to the best cherry blossoms in the Yarra Valley region.
Enjoy the Black Spur – One of the most scenic drives from Melbourne
The trees are magnificently tall in the Black Spur, so make sure you stop at either Fernshaw Picnic Area or Dom Dom Saddle Picnic Area and simply look up. First you'll need to crane your head to the sky to see the canopy.
Australian eucalypts come in so many varieties, so there's plenty to see on the forest floor also. Next look around at eye height. Stringy, rough and smooth barked varieties add a beauty to the forest floor, That being said, if you go for a wander you may even come across a giant tree fern as tall as a house!
The Healesville to Marysville route takes around 30 minutes uninterrupted, so it's no wonder this scenic Melbourne drive is a favourite for day trips and weekend getaways from Melbourne.
Things to do in Marysville
Visit the snow
Marysville is the gateway to Victoria's Alpine region. It is a convenient place to stay and hire your ski gear if you're visiting Mt Donna Buang and Lake Mountain.
The township itself has a cosy vibe and it the perfect place to base yourself for a weekend of snow play or cross country skiing.
See Marysville's gardens
There is plenty to do in Marysville including Bruno's art and sculpture garden which is just out of town.
Additionally Gallipoli park is just a short ride away. The park comes alive in Spring with a beautiful wisteria that is draped over a long garden arch. The lake is especially wonderful to walk around and there is plenty of equipment for children to play on too.
Wander down the main street
If you're looking to potter around, why not visit the lolly shop on the main road. You could also enjoy a delicious pie in the local bakery.
There's a whole host of shops to browse and explore in the town centre.
Visit Steavenson Falls
Just a short drive from town you'll find the impressive Steavenson Falls. The walk to the top is graduated and perfect for families either with children on foot or in carriers.
The base of the falls is only 300 metres from the carpark. If you can't make it to the summit there are several viewing platforms along the way.
READ | Our guide on everything you need to know about hiking Steavenson Falls
Where to hike around Marysville
If you're keen for a hike you can head out from Steavenson Falls for the Keppel Lookout Trail. It's around a 5.3km hike with sometimes challenging terrain, but the view is well worth the climb.
There are lookouts positioned during the walk so you can make the most of the valley views. If you are looking for a longer more involved hike, the Cathedral Ranges National park is just a 30minute drive from Marysville and home to some of the best hikes in the state.
What you need to know about Vibe Hotel Marysville
It's hard to miss the Vibe Marysville when you're entering town. The township has undergone massive redevelopment in the last 10 years post the Black Saturday fires that razed the township.
The modern Vibe Hotel has been built with modern lodge styling in mind. It blends in with it's bush surrounds whilst giving off an air of comfort and style.
The hotel is built 'pod style' with a series of internal bridges that connect different zones of the hotel. There is a heated outdoor pool that forms a focal point during the summer months. In the cooler months the open fire in the foyer is a particularly wonderful place to cosy up.
What to expect from the rooms at Vibe Hotel Marysville
The Vibe Marysville has a great range of hotel rooms including suits that are perfect for families or those wanting a separate living area.
Notably the suites feature a shower and a separate bath, which is a real treat. There is a small kitchenette and spacious living space with full dining table.
The hotel has been designed to make the most of the landscape and the spacious balconies feature a table and chairs so you can sit and watch the clouds roll in over the surrounding hills.
The rooms feature floor to ceiling windows, so you can enjoy the views even in the cooler months.
One of the best things about the Vibe Marysville is it's comfy bedrooms. We travelled with a 1 year old and appreciated the large comfy king sized bed and additional television in the bedroom. This flexibility allowed us to put our son to bed in the living room and watch TV in bed.
The king sized bed was extremely comfortable and the room well soundproofed. No hallway noise made its way into our suite. The curtains are full block out so our room was nice and dark. This made for a restful night's sleep and no early wakes.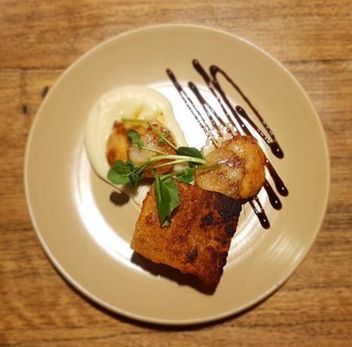 Eat at the in house Radius Bar & Grill
Vibe Marysville has an onsite restaurant that serves delicious local and internationally inspired foods. The staff were wonderful in accommodating our 1 year old and were more than happy to serve him a vegetable entree to keep him happy whilst we enjoyed our starters of pork belly and scallops.
The mains include options such as steak and beef cheeks. The Radius is a slower dining experience which is perfect for couples or groups to catch up and unwind.
Is the Radius Bar & Grill family friendly?
The Radius bar and grill also features a kids menu. There are lots of options for older children too.
For those of us with young ones, longer dinners can be difficult as bed time approaches. Not wanting to cut dinner short, the staff allowed us to order our dessert and have it delivered to our room. This flexibility meant that we could put our son to bed and enjoy dessert while he slept.
Of course small details like this do not go unnoticed by the parents of small children!
What is breakfast like at the Vibe Hotel Marysville?
The in room coffee machines at the Vibe Marysville help you start the day. Additionally breakfast is available in the in house cafe. Here you'll find everything you'll need to fuel your day.
Scrambled eggs, bacon, hash browns and house made muffins are all served. Breakfast is included in many of the room rates too. Alternatively it can be purchase for a small additional fee.
We enjoyed a hot cooked breakfast, yoghurt, fresh fruit and muffins. The cafe offers plenty of kid friendly options as well. We appreciated simple options such as peanut butter on toast for our toddler son. Additionally there are plenty of high chairs available.
The cafe offers scenic views of the township or the nearby mountains. Breakfast times are generous, so of course you can take your time before setting out for the day.
The kitchenette in your room is sufficient for cooking a full meal, so you can easily eat breakfast in your room should you wish.
The Vibe Hotel grounds
Marysville is a haven for a native birds. Your balcony at Vibe Marysville is the perfect place to watch them. There are cockatoos galore and the hotel encourages their visit by placing seed at the front of the hotel. Rosellas and Princess Parrots can also be seen in the area. If you're lucky enough they may even visit your balcony.
If you're feeling energetic during your stay, why not enjoy a match of tennis or workout in the gym? The hotel also features a sauna which is perfect for relaxing those tired muscles post hike too.
The Vibe Hotel Marysville is the perfect place to base yourself with rooms to suit couples, families or even singles looking for a relaxing getaway.
Why you should choose Vibe Hotel as your Marysville accommodation
The perfect weekend getaway from Melbourne needs to be far away enough from the city that the scenery is changed, but not so far that you eat too much into your weekend. The drive should be scenic and restorative. Finally, once you get to your destination, everything you want to see should be close by.
Marysville Victoria and the Vibe Hotel Marysville have everything you need for the perfect weekend away. The Black Spur is definitely one of the most scenic drives in Victoria and there are so many things to do in Marysville. Best of all, the Vibe Hotel Marysville has such comfy rooms and amenities. Should you wish to just stay in you'd be more than happy too!
Marysville is a unique destination in that it can be enjoyed all year around. At only an hour and half out of Melbourne there is no reason why Maryville can't become a favourite weekend getaway spot.
---
MORE POSTS ON VICTORIA