Sintra is a popular day trip from Lisbon and there is good reason why. A Sintra day trip from Lisbon is an easy little getaway into some of Portugal's most interesting history and most beautiful buildings. Our 1 day Sintra Itinerary will ensure you see the best Sintra has to offer.
Featuring the Pena Palace, The Moors Castle, The National Palace of Sintra and Quinta da Regaleira, all within a short distance from each other when considering things to do in Lisbon many opt for a day trip out of the capital. A 1 day Sintra itinerary can be completed comfortably – no need to rush!
When it comes to day trips from Lisbon, it doesn't get much easier than Sintra. It's just an hour from the city by car or train. A day trip to Sintra is very easily organised independently, or there are a number of options for a Sintra tour from Lisbon.
One things for sure, a Sintra day tour from Lisbon will leave you awestruck and here's why.
---
OUR BEST 1 DAY SINTRA ITINERARY
---
This post may contain compensated links, which means at no cost to you, I earn a commission. Read our disclaimer and privacy policy.
How to get from Lisbon to Sintra
There are several ways how to get to Sintra from Lisbon. Firstly you can travel by car, secondly by rail or bus. Finally, you can book an organised Sintra tour from Lisbon. It is very easy to see Sintra in a day.
Lisbon to Sintra by car
A Lisbon to Sintra day trip can be undertaken by car. It's around an hour however once you reach Sintra, the roads are narrow and windy and the parking is limited.
During peak periods there are traffic jams and it is almost impossible to park. If you've only got one day in Sintra, it's better to leave the car behind and make the most of your time by taking public transport.
Lisbon to Sintra by train and bus
Travel from Lisbon to Sintra is easy by train. Day trips from Lisbon by train really don't get any easier.
The Lisbon to Sintra train departs from Lisboa Santa Apanlónia station. Take the R6403 towards Caldas da Rainha. At Agualva-Cacém or Entrecampos, change to the Lina de Sintra 18809 towards Sintra. It's a popular route, so look for the signage.
Alternatively you can take the Linha da Azambuja 16001 route and change at Braco de Prata or the
The journey takes around an hour and departs every 30-40 minutes making it one of the easiest tourist attractions near Lisbon, Portugal to get to without a tour. The train is our recommended way to undertake this 1 day Sintra itinerary.
The bus takes longer than the train and the stops are less convenient. To see the most on your Sintra day tip itinerary, try and avoid the bus!
Take a Sintra tour from Lisbon
A tour is a great way of visiting Sintra from Lisbon if you're short of time or don't want to go it alone. Trips from Lisbon include large group whole day tours that take in a number of sites from the region, to half day private tours.
Our 1 day Sintra itinerary is easy to follow, so if a tour is tempting you, have a read and see just how easy it is to organise your own day trip.
Best tour options
HALF DAY TOUR | Private half day tour of Sintra
EXPLORE MORE THAN SINTRA | A Sintra, Pena Palace, Cacais and Cabo da Roca day trip from Lisbon
SMALL GROUP TOUR |Big groups not your thing? Book a small group Sintra and Cascais full day trip from Lisbon
FULL DAY TOUR | Just want to visit Sintra? Why not try the Sintra full day tour with guided Quinta da Regaliera visit?
Why Sintra is one of the top day trips from Lisbon
Sintra is one of the most popular side trips out of Lisbon due to its UNESCO status. It's significant due to its unique architecture, particularly its castles that each have their own distinct styles.
A Sintra, Portugal day trip will take you back in time to an ancient Medieval strong hold and may even make you feel like a princess!
Sintra is the site of battles, important marriages and controversial deaths. It holds an important place in Portuguese history and that is why it often comes up as one of the best things to do in Lisbon.
If you're looking for easy and intriguing places to visit near Lisbon, then Sintra is for you.
How to undertake this 1 day Sintra itinerary
Take the tourist bus
The best way to explore Sintra is by the tourist bus (number 434). You can catch the bus directly from Sintra train station. It isn't immediately obvious where the township is, so don't be fooled into taking a tuk-tuk or a guided tour. Tours of Sintra from Lisbon can easily be conducted on your own without a guide.
Set out to see the Sintra castles early as the bus wait times can be as long as 45 minutes during peak season. The best way to see Sintra is to visit the Pena Palace first. It is by far the busiest of the four Sintra castles and on most people's Lisbon to do list. It's also one of the prettiest things to do near Lisbon, so you'll want to experience it without the crowds.
Consider walking
The order of exploration after this is totally up to you, however Quinta de Regaleira is an easy walking distance from the town centre, and less busy in the afternoon which makes it a good option for the end of the day.
Prebook fast track tickets
Strongly consider pre-booking fast track tickets in the summer or allow extra time by visiting as a weekend trips from Lisbon.
EXPLORE | Explore your fast track ticket options here.
Allow time to explore Old Town and Sintra township
If you're going to tour Sintra, Portugal allow some time to explore outside of the palaces. Allow some time in your Sintra day trip tour to explore the old town and sit in one of the outdoor restaurants for lunch.
You may struggle to fit the Old Town in on a Sintra half day tour from Lisbon. If you choose to visit on a private tour with a guide, request they allow some time here, otherwise plan to eat in the old town once the palaces are busy.
Pena Palace: The prettiest stop on our 1 day Sintra itinerary
If you're going to Sintra from Lisbon, your day would be incomplete without visiting the Pena Palace. It's architecture is iconic. Perched up on a hill it also provides stunning views of the township and beyond. Although it's not technically in the city, it's often listed as what you should do in Lisbon.
The Pena Palace was built in the 19 hundreds, so its relatively new compared to the other Sintra castles. However it is listed as one of the 7 wonders of Portugal. Iconic views include the arched windows, balconies and of course that beautiful burnt umber tower.
In addition to its famous facade, the interior of the palace is also spectacular. The gardens also feature hidden pathways and beautiful views. Grounds tickets are a great way to explore the exterior of the castle, battlements and gardens without the expense of the stateroom entry fee.
Pena Palace is one of the most memorable things to do near Lisbon, Portugal. If you only have time for on Palace, then this may be the one for you.
Plan your trip
ENTRY| Palace and park tickets are €6.90 / €12.50 / €49 for an adult / child / family
Park only tickets are €7.50 / €6.50 / €26 for an adult / child / family
Allow 10 minutes to walk from the gate to the castle, 30 minutes to enjoy the balconies and exterior and at least 40 minutes to enjoy the staterooms.
SKIP THE QUEUE | Get your skip the queue tickets here. You will want these during summer!
Discover Moorish architecture at the Moors Castle
The Moors Castle is a short walk from Pena Palace. It is perched high up on top of the mountain. The Castle of Moors is a military outpost that was constructed during the 8th and 9th centuries. It differs from the other Sintra Castles as it is partially in ruins. It features stone fortifications, turrets, towers and perimeter walls that can be climbed. The views are breathtaking. You can see Sintra, Mafra and as far as Ericeira on a clear day.
Plan your trip
ENTRY | Castle tickets are €8.00 / €6.50 for adults / children
Allow an hour to explore The Moors Castle. There are a lot of steps at this site, so a good level of fitness is required.
SKIP THE QUEUE | You'll save heaps of time when you pre-purchase a Moors Castle skip the queue ticket!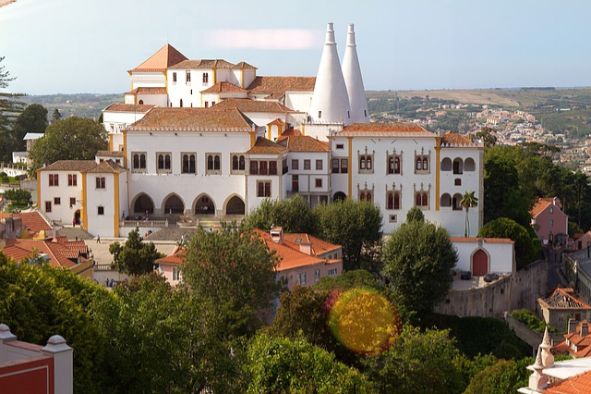 The National Palace of Sintra
The National Palace of Sintra is located in the centre of town. It has been a royal residence since the 15th century. This Sintra castle is a blend of architectural styles, however its most noteworthy features are its white facade and oast house like chimneys. The best Sintra tours include this less showy, but historically significant site.
The giant chimneys are unique as they rest over the kitchens below. Instead of covering just the fire place, they cover the entire kitchen. The exterior whitewashed walls are in stark contrast to the ornate interiors. The wall freizes are particularly stunning.
It is one of the best attractions near Lisbon, Portugal to get a great insight into the history of the country and learn about an important snapshot in time. Often overlooked for the more 'showy' castles, you should certainly include the National Palace of Sintra on your trip to Sintra from Lisbon.
Plan your trip
ENTRY | Palace tickets are €10 / €8.50 / €33 for adults / children / families.
Allow an hour to enjoy this Sintra attraction.
SKIP THE LINE | Avoid the queues and skip to the head of the line with a National Palace of Sintra queue skipping ticket here!
Explore the lush gardens and well at the Quinta Da Regaleira
Quinta da Regaleira is a 10 minute walk from the town centre. The property features a romantic palace and chapel and a lush park. A day in Sintra would be incomplete without exploring the Initiation well, a 23 metre inverted structure located in the gardens.
The palace was built in the 20th century. It is 5 storeys tall and open for exploration. The majority of your time however will be spent in the garden. In addition to the well the garden features a series of tunnel systems, grottoes and caves.
The initiation well
The main draw card for visiting this Sintra castle is the Initiation Well. It was built to connect the forces of the earth with the land. The structure is well like, with a mosaic floor and a stone spiral staircase around the exterior walls. You can enter the well from the top or the bottom.
The walk down is quite easy. Mottled sunshine streams in from above as you make your way down. The stone arches are an excellent spot for travel photos. It has a serene vibe, even during busy days.
Explore the grounds and palace
When you reach the bottom, make sure to look up and enjoy the view. The exit is through a cave system. You'll step over some stone stepping stones and a bridge as you exit.
The gardens are lush and jungle like. The grottoes and statutes can make you feel like you are in an Asian temple at times. The vibe of this Sintra attraction is unique compared to the other castles.
The palace is more of a mansion than a palace. The building was quite different to that of the rest of the grounds. It is very grand and ornate mosaic floors and decorative walls.
Best tour options
ENTRY | Castle tickets are €6 / €4 for adults / children
Allow 1.5 hours to explore the palace and the grounds thoroughly.
BOOK | Prebook your entrance tickets here.
---
MORE POSTS ON EUROPE