Bridlington is a picturesque seaside village in Yorkshire. It makes one of the prettiest days out in Yorkshire and whilst not highlighted on most tourist maps, is well worth including in your Yorkshire itinerary.
Find out what to do in Bridlington and why you simply must visit these beautiful seaside town.
---
LET'S EXPLORE BEAUTIFUL BRIDLINGTON, YORKSHIRE
---
How to get to Bridlington
Bridlington is around 1 hour from York, which is the capital of Yorkshire in the UK. The roads in this part of England are really easy to drive and there are a lot of motor ways to make for a speedy journey. We had a quick 24 hours in York to sightsee before we headed up to Brid.
Alternatively you could fly in to Newcastle and drive down, or drive around 4 hours from London. York is also serviced by fast train and bus, with connections to Bridlington. It is also in proximity to the beautiful Yorkshire Moors, Manchester and Newcastle which both have major airports.
Walk along Bridlington's sandy beach
Unlike the beaches in the south, the beach in Bridlington is sand and not rocks. It stretches for miles in either direction and is flanked by imposing sea walls. We arrived into town late afternoon and took advantage of the mild weather to go for a walk on the promenade and the beach.
The tide in this area is quite significant, with large sandy stretches exposed to walk along during low tide. The tide is so low, that the harbour is completely dry during low tide and the boats rest on the sand. I'd not seen anything so dramatic anywhere else.
Most people think of Dover having a strong hold on cliffs in the UK, but I've been pleasantly surprised otherwise. I've you've been following our journey, you would have witnessed the beautiful cliffs where we love to take our Sunday strolls. Whilst not quite so imposing, the cliffs in Bridlington also cut a pretty figure in the distance and flank the bay beautifully.
With the golden autumnal sun setting, we strolled for around an hour enjoying the sand, sure and seaweed covered posts that are well under water when the high tide makes its presence known. It's certainly one of the most serene things to do in Bridlington.
Enjoy seafood in Bridlington
Bridlington is one of the UK's minor fishing ports and is well known for its shellfish. Alas, one of us here at Passport Collective, is allergic to shellfish, so we had to skip it on this trip. For those who can eat shellfish and do love it, it is readily available and well priced compared to the south.
What to do near Bridlington
Whilst it never gets 'properly hot' by our Aussie standards, with summer reaching the early 20's it is quite pleasant, and also a very popular destination for summer holidays. It is a great place for long walks, sandcastles, sea gull chasing and of course eating fish and chips! It's certainly one of the top things to do in York.
The township itself is dotted with friendly guesthouses with warm welcomes and plenty of pubs serving home cooked meals. For us the journey was more that of nostalgia, and for those of you who enjoy visiting historic, quaint towns, Bridlington will also hold this appeal to you.
Being so close to larger towns such as York, Hull and Lincoln, it is a lovely place to visit whilst on a longer road trip. The Yorkshire Dales and Peaks District are also within an easy driving distance.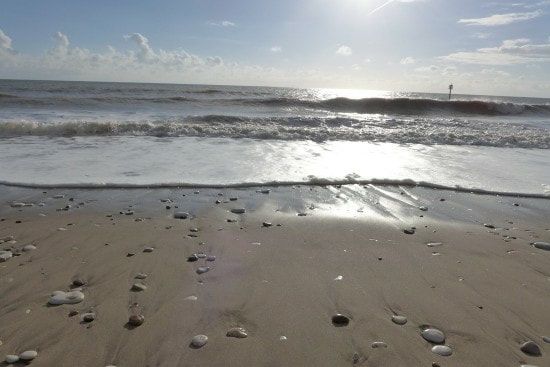 Our connection to Bridlington
I'm a little biased as to the reasons that you should visit Bridlington. You see my grandma was born in this lovely seaside town, and we grew up hearing stories of how special it is. This was carried on by my Mum who then went to visit during summer holidays as her grandparents still lived there.
Before my grandma passed away earlier this year, she wrote me a letter asking me to visit. Actually, all she wanted for her birthday was that I wrote her a letter and told her how I found England. She was so pleased we were going to explore her home country and I know that she was keen for us to visit her place of birth.
With our time in England drawing to a close, we embarked on the 6 hour trip to 'The North' to visit Yorkshire, and in particular Bridlington. We weren't disappointed.
What makes Bridlington a great day out in Yorkshire
Bridlington, or Brid as its known to the locals is a lovely pit stop whilst exploring Yorkshire and England's North. For me, a trip to England wouldn't have been complete without. Whilst it has been nearly 100 years since my grandma was born there, it was still nice to imagine what Brid would have looked like in her day.
Many of the original features of the town still exist, such as the pier and foreshore gardens and the rural landscape that surrounds the town remains relatively untouched. We loved our short stay in Bridlington and think you will too!
Like all trips, we didn't quite get to see everything we wanted to. There are so many must see historic sites in York and therefore I can confidently say that we will definitely return to explore more of Yorkshire and the neighbouring Lakes District.
---
MORE PLACES TO EXPLORE IN ENGLAND