The Great Ocean Road drive is one of the most beautiful and iconic road trips in Australia. Located in south west Victoria this coastal route can be enjoyed all year round. The Great Ocean Road self drive will allow you to choose your own timings, stops. It is a superior to enjoy all of those must see stops on the Great Ocean Road.
There are many Great Ocean Road Attractions. Our 10 must see stops on the Great Ocean Road will have you wanting to take it slow and spend plenty of time at each stop.
Our Great Ocean Road Itinerary will help you to plan your self drive trip and the best places you just must see on this iconic journey. You will need 3-4 days to get the most out of this Great Ocean Road Trip itinerary. However if you leave early and choose a few key stops, the trip is achievable in a day
---
PACK YOUR BAGS, WE'RE DRIVING THE GREAT OCEAN ROAD
---
Some of the links below are affiliate links, meaning at no cost to you, I will earn a commission.
MUST SEE GREAT OCEAN ROAD ITINERARY STOPS – TORQUAY
Great Ocean Road Attractions start in Torquay, just past Geelong. The ultimate 'surf town' is home to the iconic Bells Beach. Torquay has great surf beaches, delicious cafes, and of course lots of surf brand outlet stores. It's a great place to refuel and get ready for the journey ahead.
Bells Beach is one of the most iconic of the Great Ocean Road beaches. It is also home to the National Surfing Museum. Bird Rock Lookout provides pretty ocean views. Half Moon Bay, with its gorgeous cliffs, is perfect for some family snaps, a stroll along the beach or even a swim before getting back on the road for your Great Ocean Road Drive..
READ | Our guide to a night out in Geelong ( a great place to stay before hitting the road)
ENJOY THE BEACH AND INLET AT LORNE
It is an easy 50 minute drive from Torquay to Lorne. A Great Ocean Road self drive holiday isn't about picking up the pace. It is about a gentle meander and really exploring everything the route has to offer. A funky seaside town with a village vibe, Lorne is the perfect place to stop and stretch your legs. The beach is a sheltered cove, so it is a fantastic place to have a dip, especially if you are travelling with children.
If you're hungry there are plenty of cafes. The best thing about a Great Ocean Road self drive holiday is you can choose the pace of your trip. Lorne is one of those towns that you can stop for an ice cream and keep driving or spend a whole weekend exploring. Either way it is an iconic stop on your Great Ocean Road Itinerary.
We love visiting the swing bridge nearby and stopping at a cafe for a quick bite. If you're heading off early however and it's not quiet lunch time, there are plenty of towns along the way to grab something to eat or refuel. Don't miss this must see stop on the Great Ocean Road.
BOOK | Check out availability and rates in Lorne
BLANKET BAY IS A LOCAL FAVOURITE THAT IS A LITTLE OFF THE BEATEN TRACK
Blanket Bay is a little lesser known spot on the Great Ocean Road. If you love beautiful beaches and Australian wildlife, then you must stop. The drive between Lorne and Apollo Bay hugs the coastline and is very scenic. You'll pass through the Skenes Creek and Apollo Bay before you turn off south to Blanket Bay.
Blanket Bay is a little more remote, so if you haven't eaten yet the pubs in Apollo Bay area great choice. There's also a great playground on the foreshore. It'll take you just under two hours to drive between Lorne and Blanket Bay, so Apollo Bay is a great spot to break up the journey if you need to.
Blanket Bay is 'must see' stop on the Great Ocean Road because it is that little bit quieter. Subsequently you'll be able to get up close to kangaroos on the beach here. If you fancy spending the night, it's an amazing place to camp. Blanket Bay is all about the forest meeting the coast making it the perfect place to unwind.
Fortunately most people miss this stop (including the tour buses) so you'll have a lot more space to roam and wander without feeling rushed. It is a local haven that is a must see on your Great Ocean Road Drive.
READ | How to identify you need slow travel
CAPE OTWAY IS A MUST FOR LIGHTHOUSE LOVERS
Cape Otway is just a quick 15 minute drive from Blanket Bay. It is home to the iconic Cape Otway Lightstation (pictured above). It's a tree lined drive and the bushland is home to a significant population of koalas. Drive slowly and look up. Chances are you'll spot a few snoozing in the trees.
THE ICONIC LIGHT STATION AT CAPE OTWAY
If you're familiar with the author Paul Jennings, or the 'Round the Twist' series, the light station might oddly familiar to you. That's because it featured heavily in the TV series. Fame aside, the coastline here is stunning and the light station is well worth a visit. If you're not afraid of heights, make sure you climb to the viewing platform to truly experience the majesty of this rugged coastline. The Great Ocean Road Drive is dotted with light houses and its no wonder that it is called 'The Shipwreck Coast' locally. The dramatic cliffs and rugged seas put on a spectacular show, especially in the cooler months.
READ | Love cliffs and light houses? Read our post on Beachy Head in the UK
WHAT ELSE TO SEE AT CAPE OTWAY
Cape Otway is more than just a light house – there is the light house keeper's cottage to visit as well as a series of outhouses. Buildings have been set up in period time to show what life was like during the years the light station was in operation. If you do make it to the top of the light house, rangers are also on hand to tell you more about the history and answer any questions.
You'll want at least 1-1.5 hours to wander properly. Getting an insight into early life in Australia definitely adds depth to the history of this rugged coastline. It is an essential stop on your Great Ocean Road Itinerary. Cape Otway Light Station is also an easy trip from Apollo Bay.
MAKE SURE TO STOP AT PRINCETOWN AND ENJOY THE RIVER VIEWS
The beauty of all of the Great Ocean Road attractions is their diversity. The joy of the Great Ocean Road self drive trip is that you can explore at your own pace. There are many lovely little towns and local gems that would otherwise be missed on an organised tour.
Princetown is one of those stops. The road between Cape Otway and Princetown heads slightly inland allowing you to enjoy the magical Cape Otway National Park. If time is on your side, it's worth taking a 20 minute detour at Lavers Hill to experience the Otway Fly. Nestled in the canopy of ancient sub tropical rainforest, the Otway Fly allows you to zipline, or walk through the canopy of the forest. It is an incredible way to enjoy this unique microclimate. The detour is worthwhile if your Great Ocean Road Itinerary is stretching over 3 or more days.
Minus the detour to the Otway fly, it's around an hour to Princetown. The route is rural. In places the forest greets the road. Take the time to enjoy being behind the wheel. Princetown is marked with a small sign, so keep your eye out for it. The township is the first turn off and you'll find a local store selling snacks and lunch. The second turn off to the caravan park is where you'll enjoy the beauty of this town.
READ | Venture inland and go zip lining in at the Otway Fly
WHAT TO SEE IN PRINCETOWN
A raised boardwalk joins the township to the river and caravan park. A sea of reeds surrounds the board walk and it is an extremely scenic panorama of the surrounding hills and inlet. Rather than a beach, you'll be enjoying the river here. There's a small car park nestled close to the banks and the bridge that takes you across to the caravan park. The bridge is a favourite spot to jump into the water from and the boardwalk with a small jetty that juts out into the water is a great spot for fishing.
Princetown is a great spot for a splash, to enjoy a picnic, stretch your legs and take a couple of photos. It's most beautiful on a warm day where you can dip your legs in to the water.
WALK DOWN THE CLIFF FACE TO AN EXPANSIVE BEACH AT GIBSON'S STEPS
The short 10 minute drive from Princetown to Gibsons Steps is where things start to get really exciting. You're on the cusp of the 12 Apostles Marine National Park and the coastline here is spectacular. Gibson's Steps is the first stop on this part of the coastline. The car park is only small and it is a popular stop, so if you're visiting over summer or a peak holiday period you'll want to time your visit to before 11am or after 3 once the peak of the day trippers have left.
Great Ocean Road Beaches don't come much more expansive than Gibsons Steps and as you head down the cliff face you'll be greeted with soft white sand as far as you can see. The beach is fantastic place for a long walk and although it is unpatrolled and not safe for swimming due to the strong currents, its a fun place for a splash.
The cliffs are very spectacular in this location and you feel quite small in comparison. The beach is also features large towering rock formations just off the coast, so is a fantastic place for photographers and enjoying sunrise and sunset.
READ | How to take impressive photos without a DSLR
THE 12 APOSTLES IS AN ICONIC HIGHLIGHT
When thinking of must see great ocean road attractions, the 12 Apostles will most definitely come to mind. Stacked just off the coastline, the 12 Apostles are a wonder of geology and there position in relation to the shore means that you can get a really good look at them from the cliff face or from the beach.
In summer the blue, green and yellow hues are stunning in contrast. Conversely in winter the rough seas pounding against the cliffs make for a spectacular site. The 12 Apostles is where you'll really appreciate having at least a 2 day Great Ocean Road Self Drive itinerary.
Particularly in summer, the 12 Apostles site is packed with tourists during the middle of the day. To fully enjoy the site, spend a night at Port Campbell or set out early from Apollo Bay. This will allow you to see the 12 Apostles without the day tripping crowds.
Sunrise and Sunset at the 12 Apostles
The 12 Apostles is also a popular site for sunrise and sunset. You don't have to be a photographer to enjoy the view though. The site and car park are open 24 hours a day. This is a bonus during daylight savings.
Parking near the 12 Apostles
Parking is free at all of the 12 Apostles Marine Park sites. The 12 Apostles has the biggest car park. It is the easiest to access during peak times. Parking is forbidden along this stretch of the Great Ocean Road. Park in marked bays as rangers patrol the area and issue fines.
See the 12 Apostles by air
The 12 Apostles visitors centre also adjoins 12 Apostles Helicopters. If you're not afraid of flying a scenic flight is a once in a lifetime experience. The apostles look very different from above and you can clearly see the effects of erosion. It was a highlight of my visit to the area.
Allow one hour to explore the site and another hour if you're taking a flight.
LOCH ARD GORGE AND THUNDER CAVE
It is quite incredible that in just a 10 minute drive there is so much to enjoy, but the 12 Apostles Marine Park offers just that. Loch Ard Gorge and Thunder cave are just a few minutes further on than the 12 Apostles, and secretly they're my favourite stop of all.
Both Thunder Cave and Loch Ard Gorge are accessed from the same carpark. Thunder Cave is a blow hole that comes alive on windy days where the seas are high. You'll certainly feel the splash of this powerful blow hole! It will give you a real sense of just how strong the ocean is in this part of the world.
Loch Ard Gorge, is a beautiful gorge with a beautiful private beach. Our most recent visit was during the peak of summer and at 9am we had the beach all to ourselves. It is a stunning spot for some splashes, sand castles and photos. The tide is quite strong and the gorge has caves with hidden rocks, so it isn't a safe place to swim, but water play is fine.
If you visit during low tide, you can scramble over the rocks and enjoy the caves. It is a location that is beautiful from the lookouts looking top down and from the beach itself. If you visit during a quieter time, it is one of the most serene Great Ocean Road beaches to just sit at and unwind.
PORT CAMPBELL AND TIMBOON MAKE A GREAT OVERNIGHT STOP
My favourite of the 10 must see Great Ocean Road stops is Port Campell. Port Campbell is the ideal location to overnight if you want to get the most out of the 12 Apostles Marine Park. Its just a 10 minute drive away and has a huge range of accommodation options. There is a small sheltered beach that is patrolled and a river that is safe for swimming, so it is a great place to enjoy the water.
A wide range of accommodation option are available in Port Campbell. These include self catering apartments and a caravan park. Dining options are varied, however in summer it does get busy, so make sure you book ahead.
The township itself is small, laid back and relaxed. Its pier is popular for fishing and the local seafood is delicious.
TIMBOON IS A HAVEN FOR LOVERS OF GREAT FOOD & WHISKEY
As well as being famous for its coastline, the Great Ocean Road is also home to some of the best food in Victoria. Just 10 minutes away is the small town of Timboon. The ice creamery and distillery are hugely popular.
The distillery offers whiskey tastings as well as meals. It sits adjacent to a large playground and the old Timboon railway station cottage. Bikes are available for hire from the railway station cottage.
ENJOY SOME OF THE BEST GREAT OCEAN ROAD BEACHES AT PETERBOROUGH
The last stop on our coastal drive is Peterborough. Just 15 minutes from Port Campbell, it is a beautiful town known for its cliff lined beaches and river inlet. On the short drive, you can stop and enjoy London Bridge. Unlike it's English counterpart, Australia's London Bridge is a a stone stack. Prior to 1990 it was connected to the coast. Due to a collapse it can now be viewed from the shore.
The Grotto is another must see attraction in Peterborough. Similar to Thunder Cave, The Grotto is an open cave formation with small rock pools by the water's edge. It is spectacular at high seas where the waves crashing sending a fine mist into the air. In summer you can take a quick dip in the rock pools. Calmer seas allow you to get a little closer to the edge during the summer months
Worm Bay and the Bay of Martyrs are beautiful beaches for a stroll. Additionally Port Campbell Bay is a lovely spot to swim. There are many patrolled beaches in this area, making it a great holiday spot during the summer.
WHY YOU SIMPLY MUST SELF DRIVE THE GREAT OCEAN ROAD
The final of our must see Great Ocean road stops is Peterborough. You can however continue to drive to Warrnambool where the Great Ocean Road Drive officially ends. 4 days is the ideal time for this route. Nevertheless our must see Great Ocean Road stops can be done comfortable in as little as 2. With several adjustments it can be shortened to a day trip.
Regardless, these Great Ocean Road attractions are must see locations. This drive is beautiful all year round making it a destination to return to.
On your return trip, you can save time by driving inland via Colac. If you have time to spare, utilise your return journey to stop and enjoy some of the sights you may have missed along the way.
READ | Our guide on driving in Australia as a tourist
Save me for later!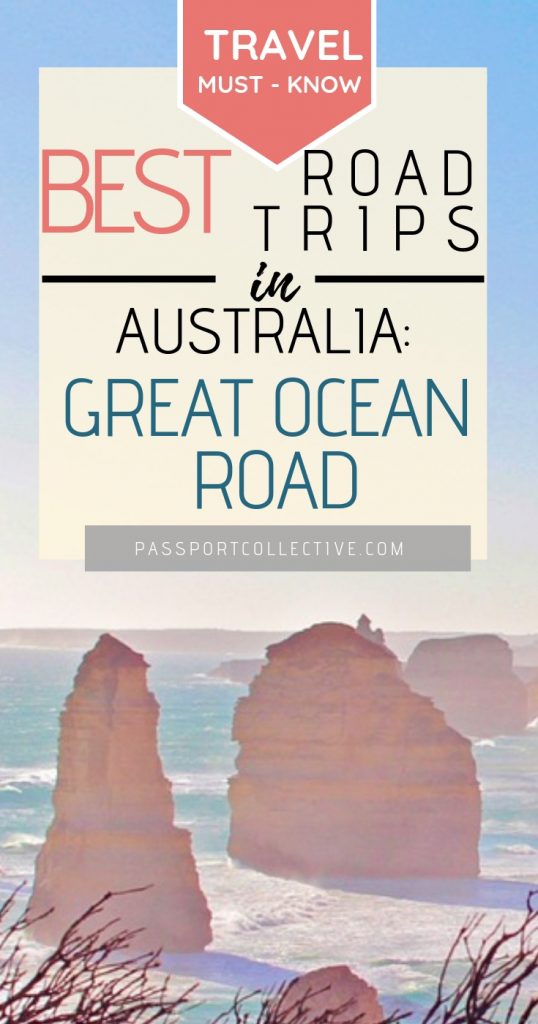 ---
KEEP EXPLORING AUSTRALIA