A fly drive Australia holiday is one of the best ways to experience Australia. The fly and drive option allows you to spend time on the road exploring the very best sights whilst opting to fly between some destinations in order to conserve time.
Driving in Australia requires a little preparation, but once you're familiar with some key rules and have planned your route, it's surprisingly easy to navigate this well signposted nation! Fly drive holidays in Australia are suitable for nearly every traveller.
Holidays in Australia come in all shapes and sizes. We'll show you the best place to spend on the road, and some locations you might like to hop on a plane if you're a little short on time.
Whether you're planning on driving around Australia or just driving around Tasmania, we will show you that you can safely drive on holidays in Australia and that the best holidays in Australia involve a road trip or two!
---
OUR GUIDE TO AUSTRALIA FLY DRIVE HOLIDAYS
---
This post may contain compensated links, which means at no cost to you, I earn a commission. Read our disclaimer and privacy policy.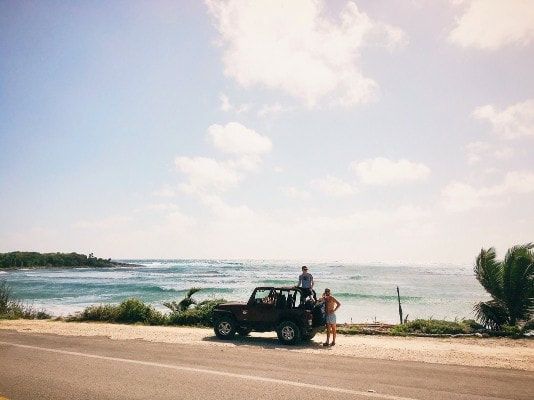 How to pick a car to fly and drive Australia
Hiring a car in Australia
Once you fly to Australia the key decision you'll need to make is how to pick a car. If you're looking for a car hire, Australia is an easy destination to rent. All of the major companies like Hertz and Avis rent out of Australia's international airports. Additionally most have downtown or metropolitan locations too.
When considering car rental, Australia is a big country. If you are planning on taking a one way journey it may cost you a significant one way fee. Keep an eye out for one way specials and perhaps consider the order of your road trip around Australia to tie in with rental specials.
Hiring a campervan in Australia
When it comes to campervan hire, Australia is the perfect destination to consider this style of holidays. Traditional accommodation in Australia can be quite expensive.
Comparatively a campervan offers you freedom to visit less touristy places and you can either stop in a free camp zone or choose the amenities of a 'caravan park' (Australia's equivalent of a trailer park). Sites can be powered and with or without your own ensuite, so the level of comfort, and cost, is completely up to you.
Buying a car for your Australia road trip
If you're planning an extended road trip, then buying a car is the most economical option. You will want to buy a car with a 'roadworthy' certificate. Every new car needs one. If you buy one without it, you won't be able to transfer the ownership into your name, which is an essential step. Buying a car with a roadworthy may cost you a little more upfront, but will help you avoid any nasty surprises.
The next step is to visit the road traffic authority in the state you are in and transfer the ownership into your name. Depending on the value of the car, there will be a transfer fee involved. You can calculate this beforehand to help with your budgeting.
Additionally, there is a yearly registration fee to pay. The fine for driving an unregistered car is significant and you won't be covered by insurance, so don't miss this step. The car you purchase may already have some registration left on it that the seller will transfer to you upon sale. Consider this when choosing a car.
Registration can be paid quarterly, biannually or annually which offers great flexibility if you're only planning on keeping the car for a few months.
When you're ready to sell your car consider whether you'd like to sell it for a little lower price, or pay for the roadworthy. The same process will repeat again with you as the seller this time.
READ | What you need to know about driving in Australia as a tourist
PLAN | What to pack for Australia in the Summer
Is it easy to drive in Australia?
Drive on the left
Unlike most countries in the world, Aussies drive on the left. Unlike the UK, which is full of tricky round abouts, most large intersections in Australia operate using a traffic light system, which can make it a little less confusing.
On popular tourist routes you'll be reminded of this. Otherwise, you'll need to keep this forefront of your mind.
Ensure you're correctly licensed
When driving in Australia, you do need to ensure that you are correctly licensed and that you are aware of the road rules. Some basic rules are you need to stay under 0.05 blood alcohol, 0.00 if you are a new driver and on P plates (the first 3 years of driving) and to be aware of the speed limit.
International drivers can use an international license for up to one year. After that, it is worth applying for an Australian license. You'll need to be 18 to drive in Australia. You can be a 'learner' from 16, but you'll need to drive will a fully licensed driver in the car at all times.
There are a lot of police and road traffic cameras on Australian roads, so don't be alarmed if you are pulled over for a random breath or drug test. Speeding fines are issued for any speed over 3kmh (1.9mph) over the marked speed limit, so it is essential that you don't speed, or it can add up very quickly!
Plan for rest and petrol stops
Australia has great roads and freeways that connect its cities and there are many interesting places to stop on the way. On popular routes (don't expect it in the outback!) you'll regularly find rest stops with petrol and take away stops to refuel your car and yourself.
There are also many interesting towns to visit along the way, giving you an 'authentic' Australian experience.
Australia road trip: Melbourne, Canberra, Sydney & Brisbane
East coast road trip itinerary
An East Coast Australia road trip is one you won't soon forget. This iconic route is one of the best drives in Australia and is one of the easiest for overseas visitors. An east coast Australia road trip itinerary generally starts in Melbourne and winds its way up to Brisbane. The choice however is yours with many undertaking highlights of the route.
The east coast of Australia is well connected by the A39. It takes around 6 hours to drive from Melbourne to Canberra, 11 hours from Melbourne to Sydney and 2 days from Melbourne to Brisbane. Of course these times are based on driving point to point, which really misses the point of an Aussie road trip!
If you're undertaking the whole Melbourne to Queensland drive, plan to break up your journey. The Brisbane to Sydney leg is quite expansive, so you may want to mix it up with a little coastal and inland driving.
Australian's love oversize monuments, like the Big Banana in Coffs Harbour. This leg of the route is a great one to spot as many as you can! Once you're in Queensland you'll find self drive Gold Coast and Brisbane the easiest and quickest way to get around.
What you need to know about driving in Melbourne
If you're planning on driving along the east coast of Australia, you can't miss Melbourne! Allow at least a week in this beautiful city. Spend some time without a car exploring the CBD (Melbourne's laneways are stunning) before heading out of town.
Driving holidays from Melbourne don't come more spectacular than the Great Ocean Road. Take a little side trip west before meandering along the coast to Sydney. You won't want to miss gems like Gippsland and Merimbula on your way.
PLAN | Essential Melbourne Day Trips
MUST SEE | Great Ocean Road Drive
UNIQUE STOPS | Otway Fly Zip Lining
What you need to know about driving in Sydney
Driving in the Sydney CBD can be a little hectic, but its well worth having a car so you can get out of town. Notable road trips from Sydney include the Blue Mountains, the Hunter Valley and the iconic Sea Cliff Bridge on the South Coast.
Start your Sydney road trip early to avoid the long peak hour traffic. Driving holidays from Sydney often include toll roads, so research this in advance if you're buying your own car. If you're renting, your hire company will take care of this for you.
The Sydney to Brisbane drive can be doing either inland or coastal. If you take the inland route, you are spoiled for choice when it comes to small towns to visit. in If you're a fan of country music, then you'll want to stop in Tamworth, Australia's country capital.
As you reach the New South Wales / Queensland Border head out to the coast where you will be spoiled with picturesque seaside towns such as the iconic Byron Bay.
CELEBRATE | How to celebrate Christmas in Australia
Driving the east coast of Australia: Distances
East coast Australia itinerary
If time is not on your side, then flights are cheap and plentiful down Australia's east coast. If you keep your eyes out for specials, you can fly between Melbourne and Brisbane for as little as AUD $70 (USD $45) on a reputable airline, with a flight time just over 2 hours. Sky Scanner is the perfect site to keep tabs on flight prices.
Flying is a great option if you wish to skip places you've previously visited, or if you are looking for a variety of experiences within a shorter holiday. Whilst you will miss out on local and country experiences along the way, it is very easy to access a car once in Brisbane and enjoy range of shorter driving holidays from Brisbane. Key destinations being The Gold Coast, The Sunshine Coast or even a longer adventure up to Cairns.
Both driving and flying are excellent options in this part of Australia. The roads are easy to drive and well kept and flights are both inexpensive and plentiful.
Driving to Far North Queensland
Cairns is known for its beautiful tropical weather and being the gateway to the Great Barrier Reef. It is a popular destination with a large variety of tourists and is a great opportunity for some warmth when the southern states are feeling a wintery chill.
Australia's size often catches people by surprise. Many don't realise that Melbourne to Cairns is a 3.5 hour direct flight or a 32 hour drive (no naps included)! Often it makes sense to combine driving and flying, and unless time is on your side, we suggest that you fly into Cairns.
Once in Cairns, you will find that most roads are paved and that you can easily drive further north to Palm Cove and Port Douglas where the majority of resorts are. If you are wishing to go as far as Cape Tribulation, you may need to find a local or specialist car hire company (unless you have a car of your own) as chances are you won't be covered to drive on unsealed roads.
Don't fear, there are many roads into the Daintree Rainforest that are further south of Cape Tribulation, so you can experience the beaches, resorts and rainforest without issue.
When it comes to Far North Queensland, unless time is on your side, you are best to fly and then drive. If you do have the time to drive, there are plenty of beautiful beach side towns to visit. You'll need to allow 5 days if you're driving 5 hours/day or a little more if you wish to spend extra time at any of the towns along the way.
Planning your Tasmania road trip
Fly drive Tasmania is a popular choice if you're wanting to make the most of your time. Technically you can 'drive to Tasmania' by taking the ferry from Melbourne to Devonport, however the journey takes the best part of a day and most hire companies will not allow you to take a hire car on the ferry.
A driving tour of Tasmania must include the east coast. The north east corner near Freycinet National Park is one of the best drives in Tasmania. Wine Glass Bay is a notable attraction in the area, which is also known for its fresh seafood. Every Launceston to Hobart itinerary must include the coast, which is far more scenic than the inland route.
A Tasmania driving holiday can encompass the entire island or be as simple as self drive day trips from Hobart. You won't want to miss the quirky MONA museum or historic Port Arthur. The sheer number of interesting attractions and beautiful scenery make Tasmania fly drive holidays so good. Tasmania is a must on your Australia self drive itinerary!
Tasmanian driving conditions
Driving in Tasmania is simple. Traffic is much less of an issue and much of your journey will be rural. Tasmania is one of the most popular destinations for self drive holidays as the attractions aren't too far away from each other. The best drives in Tasmania however are taken slow. A Tasmanian driving tour is best enjoyed with lots of stops and lots of fresh food along the way.
If you are going to self drive Tasmania, just be wary of locations like Cradle Mountain. It can experience snow fall as late as Easter and most hire companies will not allow you to drive in snow unless it is pre-arranged.
Best road trips Australia: Adelaide and South Australia
Adelaide to Melbourne road trip
Most east coast road trips start in Melbourne, however Adelaide and South Australia shouldn't be so easily overlooked. Driving up the east coast of Australia from Adelaide allows you to experience the incredible coastline between Adelaide and Melbourne
Adelaide is most easily reached by Melbourne, and an easy 8 hour drive. If you do choose to drive, we suggest you make a diversion south to visit Mount Gambier which is famous for its water filled caves and sinkholes. Robe and Victor Harbour are also two stunning seaside villages worth a visit in the summer months, not to mention the world famous Great Ocean Road that lies on the ocean route between Melbourne and Adelaide.
With so many iconic places to stop and see on the route between Melbourne and Adelaide, we highlight recommend making this a road trip. You may even wish to start your fly and drive Tasmania adventure from Hobart and see a little of the mainland before venturing off. The options are limitless.
Adelaide to Sydney road trip
The Adelaide to Sydney drive features many country towns, but certainly isn't as picturesque as the Melbourne – Adelaide route. If keeping your car for mobility and cost reasons, it may make sense to drive to Adelaide from Sydney, but if not you make be best to utilise this opportunity to save some time and fly between the two cities. The same goes for the other eastern states.
Adelaide to Perth road trip
If you're making your way to Adelaide from Perth and considering a road trip, then our top tip is to be prepared. You will be crossing the Nullarbor Plain, which is a large desolate stretch of desert. Rest stops will be few and far between, and you will need to ensure that you carry survival gear, fuel and supplies incase of an emergency. It is a 2,700km (1670mile) journey between the two capitals and there isn't a lot to see on the way.
Unless you're on a 4 wheel driving tour of Aus, we suggest you give it a miss and spend just over two hours on a plane to easily travel between these two cities
READ | Adelaide to Alice Springs Road Trip
PREPARE | Shop our favourite sun protection!
Trips within South Australia
Driving holidays in Australia can be taken fast or slow. If you've got a little time to explore Australia, South Australia is an incredible destination.
If you love wildlife, then hop on a ferry to Kangaroo island for a few days. It's known for its wildlife and incredible rock formations. Further north of the capital lies the Clare Valley – home to numerous wineries and artisinal foods.
As an alternate route to the coast, why not head inland and explore Coober Pedy or Lake Eyre? Australia's red centre certainly makes for an unforgettable experience.
West coast Australia road trip
What you need to know about driving in Western Australia
Western Australia is Australia's most isolated state and is best accessed by air. It is a 4 hour flight from Melbourne, 5 hour flight from Sydney and 5.5 hour flight from Brisbane. Its remote nature means a self drive itinerary in Australia's west is remote, exotic and oh so memorable!
Western Australia's vastness means that if you do self drive Perth to Darwin, you'll need to be prepared. A 4WD is the best type of vehicle and will allow you to go off road and see iconic sights such as the Pinnacles.
Western Australia is a massive 2.646 million square km (over 1000 square miles) in size, so if you are wanting to head to more northern towns such as Broome, a regional flight may be a good option for you if you're not confident with off road and remote driving. Same goes for cross country trips like the Sydney to Perth drive, which is best undertaken with experience and preparation.
Perth day trips by car
If you are looking for Perth day trips, self drive is a great option. There are many places you can visit such as the Margaret River (a premiere wine region) or beautiful seaside towns such as Geraldton to the north. Additionally, Mandurah to the south features a beautiful pier and is famous for its fresh seafood.
Scarborough Beach is a local favourite just out of the CBD, as is Freemantle, which has a cool hipster vibe
Exploring rural Western Australia to Darwin
The Northern Territory is home to world famous sites such as Uluru and Kings Canyon, which we'll cover next in our section on The Outback. The capital city of the Northern Territory is Darwin and it is located far north on the coast. It is a great starting point for iconic national parks such as Litchfield and Kakadu.
During the dry season, these parks are easily accessed by 2WD, however with flooding in the wet season, a 4WD will offer you better access. Like mentioned earlier, you will need to double check where you can drive with your rental company.
Mobile phone access is patchy in this part of the world, so you will need to rely on maps and park signs. Driving is rewarding in this part of the world, but can become stressful if you're not prepared. As Darwin is a remote city, it is best to fly and then explore by road, or join a group.
READ | How to explore Darwin in the wet season
SHOP | Aussie strength Insect repellant (you'll thank me later)
Best road trips Australia: The Outback
Like its name suggests, much of Central Australia is sparsely inhabited desert. Now this doesn't mean that there isn't anything to see. From Lake Eyre, Australia's biggest inland salt lake (a salt flat more often than not), historic outposts, cattle stations and world famous rock formations.
Whilst driving across Australia may seem a little overwhelming, this iconic Australia road trip route is worth the preparation. The outback is home to must see sights like Kings Canyon, Uluru and Kata Tjuta, which are worth the extra planning.
If you are experienced with rural driving then the Sydney to Uluru drive and the Brisbane to Uluru drive offer a unique perspective on parts of Australia that even most Australians haven't seen for themselves.
The Outback road conditions and preparations
Many roads in The Outback are paved, so you can easily traverse them without a 4WD. Even the dirt roads are well maintained, albeit slightly bumpy in places! Whilst most roads are accessible to 2WD cars, you will need to check with your hire company as to where you are allowed to drive, and purchase additional cover if required.
Safety precautions when driving in The Outback include letting friends / family know your route and checking in with them on a daily basis. Ensuring you have mobile phone coverage that extends to remote areas, or access to a satellite phone should you get in trouble.
In addition to this, you will need to make sure you have access to supplies such as fuel and water as if you do get stuck and can't call for help it may be quite a while between cars, particularly if you have chosen a track that isn't the main route.
If you're not confident off road, then fly & drive into Alice Springs or Ayers Rock Airport are also great options. Australia fly drive holidays are so easily tailored to your needs – you can make it your own!
READ | Kings Canyon – How to explore Australia's best canyon
READ | Adelaide to Alice Springs what to see and do
Easy outback Australia fly drive holidays
If you'd like to experiment with driving in The Outback, but don't want to spend days and days in the desert, then places like Coober Pedy in northern South Australia or towns like Broken Hill on the New South Wales / South Australian border are a good opportunity for desert driving, without the remoteness of the Red Centre.
Regular flights to Ayres Rock and Alice Springs operate from most Australian capital cities, with a choice of flights times each day. These provide you with a great opportunity to see The Outback, without the days and days of desert driving. Many companies offer tours that visit the main attractions, which are an attractive option if you are confident driving.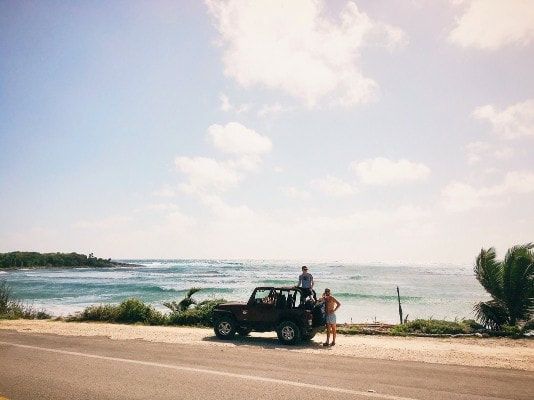 The best drives in Australia
Road tripping in Australia is a rewarding experience. The roads are good, the routes clearly marked and there are a variety of interesting and beautiful places to visit along the way. You get to see the 'real' Australia, outside of the tourist traps, and get an insight into the real Australia.
There are many accommodation options on your way, as well as rest stops on the more populated routes. Driving in the outback or more remote areas give you a unique insight into the remoteness and sheer size of the Australian continent, however they do required planning and preparation before setting out.
City and regional driving in Australia for tourists is an enjoyable and flexible way to holiday in Australia. It's common sense how to drive in Australia and once you hit the open road it becomes easier again. The best fly drive holidays should take you out of the city anyway!
The joy of travel in Australia is that you can road trip the whole journey, or pair it up with airline travel to save time, or cater to your confidence / ability in the Australian conditions. Whilst it would be wonderful if we could explore countries for weeks or perhaps even months on end, it is a reality that our holidays often end too soon and the sheer size of Australia means that going by road may severely limit your experiences.
Whilst this may suit you, most people want to enjoy the diversity of experiences and climates that Australia has to offer and want to know which bits they can skip over with a flight in order to pack the greatest punch into their Aussie break.
Whether your drive around Australia itinerary encompasses a week, a month or a year, there's a route for everyone to enjoy.
Which routes do you think you'd take? Are you game to try driving in The Outback?
Passport Collective is a participant in the Amazon Services LLC Associates Program, an affiliate advertising program designed to provide a means for us to earn fees by linking to Amazon.com and affiliated sites. As an Amazon Associate I earn from qualifying purchases.
---
MORE POSTS ON AUSTRALIA